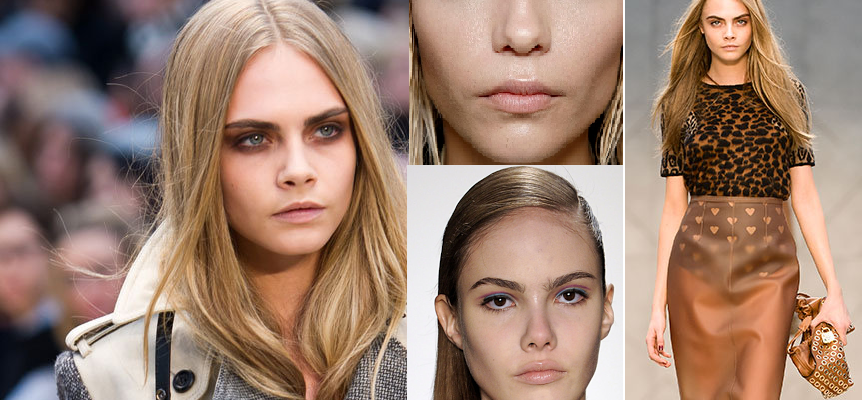 It's not just your wardrobe that's in need of a transformation this winter season, it's time to shake-up your make-up too.
Ban the tan, get rid of the pastel lippy, and throw out the warm bronze eye-shadows.
This winter is all about the heavy smoky eye (think character from a Tim Burton film) and giving your face that celestial glow (also think character from a Tim Burton film)!
The smoky eye is a timeless make-up classic that never fails in adding a touch of glam to any palette and it's a look that's repeatedly seen on the red carpet. The smoky eye also graced the catwalks of fashion giants Dior and Missoni this season, giving their models that uber eerie look.
Get the look
Apply eye-shadow in either deep purple or cool grey tones
Smudge some black kohl underneath the eye to really give them that striking effect
Then to finish them off draw a generous line of eyeliner behind the top lash line
And if you're out to impress, add a set of false eyelashes to accentuate those haunting eyes
Then your gorgeously gothic eyes for AW13 are complete!
Now, we girls do love our tan but dewy winter skin can look just as fabulous as beautiful bronzed skin. Trust me. But before attempting this ethereal glow, remember to firstly apply a generous slathering of moisturiser because as alcohol appears to act as make-up remover on those drunken nights out, the cold winter weather acts as a moisture zapper.
The buzz word for beauty this season is contouring. Contouring is all about giving the illusion of perfectly flawless skin. Major fashion brand Versace, used clever contouring tricks to give their models that angelic glow on the catwalk. Everyone's favourite reality star; Kim Kardashian is an ambassador for contouring after revealing it to be the secret to her blemish-free skin in magazine interviews. But you don't have to be dating a superstar rapper and have a behind the size of the Middle-East to achieve this look yourself.
The key is to firstly invest in some decent make-up brushes, whilst this could be quite a costly purchase; it's most definitely a worthwhile investment because as long as you take care of them (by washing them in warm water every few weeks) they'll last for a very long time.
Contouring tool kit
Liquid foundation-one that matches your skin tone and one slightly darker
Cream Highlighter
Blusher
Flathead Brush
Blusher Brush
Contouring made easy
Apply your foundation to your face and neck. Make sure you gently blend the foundation and not rub it as the oil from your hand will ruin the foundation
Then apply the darker shade of foundation to the flat head brush and draw an 'E' starting from the middle of your hairline, then follow it across your cheekbones to give them that hollowed-out effect and finish on the jaw line
Repeat this process on the other side of your face
Then clean that brush with a tissue and apply the cream highlighter to the same brush.
The next step is to draw a letter 'C' starting above the brow and finishing just above the cheekbone to really highlight your eyes
Repeat this process on the other side of your face
Finally apply a generous helping of blusher to your blusher brush and go over the E's and C's to emphasise your bone structure.
Whilst these looks are quite dramatic and you may not feel comfortable with wearing your make-up like this every day. You should definitely consider it for your nights out this festive season as you're sure to be the Belle of the ball (or work's Christmas do)!
Chloe Stewart –