This week saw the announcement of the brand new collaboration between Kate Moss and Carphone Warehouse for an exclusive (and very cool) range of cases and covers to beautify your gadgets. What's great about this collection is that there's a range of pieces to clothe any phone, from your iPhone, to your Samsung, to your Blackberry and more. There's even a universal phone that will fit models that haven't been specifically designed for.
In gorgeously soft black leather featuring an anchor motif in the top righthand corner (based on Mossy's wrist tattoo) this universal case is chic, stylish and certain to fly off the shelves! The cute anchor motif is also seen on a few of the other pieces in the collection, I especially love the flip case that fits current Samsung smartphones (pictured below).
Next up, the iPhone cases. There are three of them in total, but my personal favourite is this patent black snakeskin hard case. Taking inspiration from her favourite Dunhill Lighter, Moss designed this to be sophisticated but cool, mirroring her own sense of style. The other cases in the range feature silvers studs, stars and heaps of eye-catching detail. Inspired by the things she loves, it really looks as though a lot of time and energy has been put into making this truly luxurious and very covetable.
Set to go on sale Wednesday 24th July, and starting at only £14.99 for a phone case or £49.99 for a tablet cover, the launch of Kate's first (and most definitely not the last) collaboration with the communications retail giant was a small and intimate lunch at The Ivy. With the guest list made up of some of Kate's closest friends including Jamie Winston, also spotted with Moss at Glasto this year, BFF Sadie Frost and Radio 1 DJ Nick Grimshaw.
Which piece will you be queuing up to get your hands on?! Tell us in the comments box below.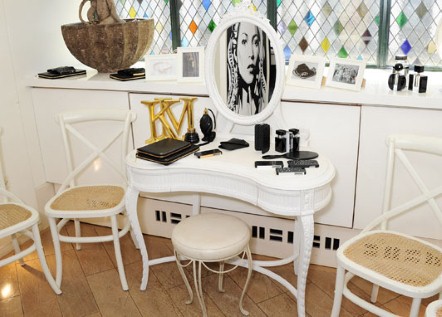 Rachel E Tranter
As a stylist, fashion blogger, social media manager and PR exec, Rachel has worked for CFW for the past two years. Rachel is now blog editor for CFW whilst also maintaining her own blog; Perfectly Presentable. Follow her here on Twitter.
Photocredit: Guardian.com