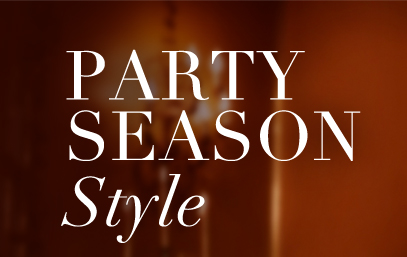 Whether you want to believe it or not, the festive season is well and truly nigh, and depending on who you are, that can conjure up a host of different images: a massive tree with gifts scattered at its base, the smell of cinnamon in the air everywhere you go, chestnuts roasting on an open fire (the lyrics, I'm not 100% sure I even know what a chestnut looks like…) or a couple hand-in-hand skating at an outdoor rink. Now the last one either gives you warm butterfly feelings as you know in the upcoming months that will be you, or it fills you with dread because you will once again have to make up a Bridget Jones like excuse at the Christmas party when your drunk uncle asks "still no boyfriend then poppet?" Having spoken with a few of my single friends, I asked them if they are bothered being footloose and fancy free during the season of goodwill. Most say they are too busy to be that upset, but do admit things like looking at pretty festive lights, snuggling in front of a roaring fire or having to face the entire family is just that little bit harder when alone at Christmas. And so enters extensive pre-Xmas Tinder usage…. not only are most of my friends using it (don't worry I wont out you) but they are giving out their green hearts at such a speed, you would think the Grinch has changed his mind and is now in the Valentine's Day game….
For those of you who have yet to succumb to the iPhone and don't watch the television or read any newspapers, Tinder is a phone app that allows you to see other (seemingly) single people in your area and literally like them if you think they are cute or bin them, never to be seen again, if you don't. If you both think the other is attractive, Tinder matches you and you can start chatting, if one of you doesn't, you aren't matched and no-one's feelings get hurt. Having been a keen spectator of my friends using this app and living vicariously through their dates, I have often been the one they turn-to to ask the ultimate question – what do I wear?
On a first date, an event that if procured through Tinder has been based on but 4 photographs, choice of attire is of the utmost importance. As I watched a friend try to sell me on a skirt she wanted to wear by re-living the moment in Bridesmaids where Annie tries to make them buy the cheaper dress – "It's a great colour, it's a great length, it's fun, you can twirl, you can move in it, you can spread your legs apart" – I remind her there will be no twirling or leg spreading and therefore it is not the right skirt for her. So when she says "well what IS the right thing for me" I began to think about what one should wear on a first date, and came up with a few suggestions below:
Top: At the moment I am partial to a jumper, shirt combo. Luckily, Comptoir des Cotonniers have done this gorgeous one with a detachable collar for £120. I know this may seem a little preppy, but I LOVE thin cashmere jumpers and skirts worn together. I think it gives that Zooey Deschanel look we are all trying to achieve. And this particular one would look stunning with the skirt below…
Pieris Jumper, Comptoir des Cotonniers, £120
Skirt: On a first date you want to appear feminine, NOT trashy. Skirts are a must for me for any occasion that involves a little extra effort. Leave a little to the imagination; nothing too short or too tight unless you never want to see this guy again. Wide, full skirts are flattering to all shapes and sizes, just tailor how big the flair and the length depending on your height. I love this one from Topshop because the colour is gorj and it hits just below the knee.
Heavy Crepe Full Skirt, Topshop, £60.
Shoes: Not too high so that you end up being taller than him, but not too low that you don't give off the max potential of your pins. Personally I don't think you can go wrong with a stand out court shoe. I would wear the below from Office with the outfit selected – so chic.
Razzle Cobalt Blue Suede, Office, £55
Bag: I always get asked, do you take a clutch or your proper bag. I would suggest large clutch, because then it could be either and doesn't make you look like you tried too hard or not hard enough. I like this one from Accessorize because it matches the shoes and I think that's cute…as does the Queen and she has impeccable taste!!
Leopard Print Clutch, Accessorize, £45
Jewellery: Choose a statement piece and run with it – don't go all big ring, big necklace, big earrings because you may get mistaken for Mr T. I love this statement necklace from Banana Republic, which will look fab under a collar of a shirt, against an LBD or on plain top.
Turquoise Statement Necklace, Banana Republic, £75
And as for perfume, Chanel No. 5 always…. Was there really any question?
I leave you with a few tips from a previous post about how to read into what one liners in a profile actual mean and how a photo can speak a thousand words…. Be careful now, there is a potential date at stake!
One Liners:
"I like going out with friends" = Heavy drinker
"Some college" = dropout
"I like to go to the gym 7 days a week" = Delusional/Fat/Liar/Obsessed with mirror image of self
"Musician" = Stoner
"I like to walk everywhere" = Cant afford a car
"My friends say I am a good laugh" = Your friends use you to buy rounds
"I am training to be a doctor/physicist/dolphin trainer…" – Girls dig that right?
Photos:
Photo of you in your bedroom – I have just taken this right now
Photo of you drunk – I have a drinking problem and think its cool to show you
No top on (boys…) and face not showing in profile – I look like the back end of a donkey but hope my cheese grater abs make you forget that
Posing – I think I'm Christina Aguilera/Tom Cruise
You with your ex – This is what I am looking for/I haven't always been single
You with a child – Dude been on too many dates
Becky Güth is a London based blogger who currently works for a communications company as a junior account executive in their fashion PR department. Having worked with everything from high-end French clothing to high-street homeware, Becky's knowledge of the industry is broad and varied. She spends her time split between London and Gloucester where her family still live. Becky also blogs at www.glossota.blogspot.com