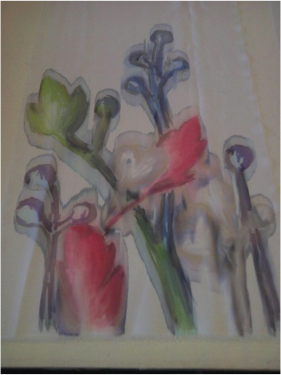 After a very fast & full summer, I was back at uni but… in our new flouse (our name for our flat/house, hence 'flouse') … so feeling even more excited than before! I was back and this time as a second year student … (oooooo!)… and ready to get back into everything.
We had been set a summer project which was to find something / a topic that inspires us and to gather primary research ready to go back to. (Primary research being sketches, photographs, notes ect. from vising or seeing that 'something' or that topic). I studied 'Cheltenham Racecourse Antique Market & Car Boot' – an incredible place! Inspired by the atmosphere, the people and the objects, I was able to get stuck back in to a fab project and to design an entire collection using a screen print drawn by observing buyers and objects at the car boot.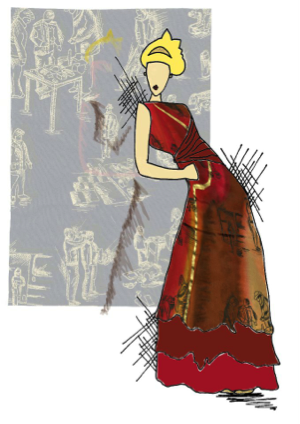 The main dress within my first collection at Uni, year 2 ©GeorginaRoseBeaton
The first project completely flew by and getting back into the swing of things felt much easier than expected. I also felt that things were coming to be much quicker in terms of ideas, creativity and inspiration. I think that this was partly due to the fact that I lived for this degree and lived with three other fab besties that all shared the same passion for their topic. The flouse was often turned into a studio! Movie and homework nights all the way!
The second module was all about screen-printing but to design and create a full length of fabric with the use of a screen printing method. (I loved the print room and often just wanted to live in there – so much fun!!!) There was a competition for the Stroud arts Festival, great for me as not too far from home and because I had previously finished a full year in Stroud as part of my art foundation course. The area of which I focused no was the cottages and gardens with the flowers (of course) that surrounded the area.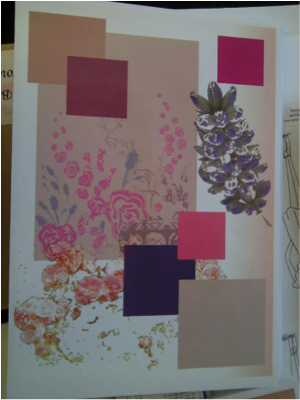 Mood Board created for the Stroud Festival.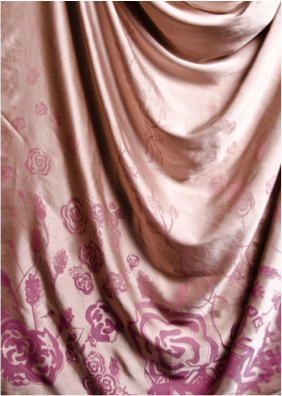 Georgina Rose fabric length screen printed
As part of the same project, we were taught some pattern cutting in regards to creating a button stand, a cuff and a collar and part of the brief was to design a garment that incorporated at least one of these pieces. I wanted to create a draped dress with my print running across the hemline, of which was made by a giant cuff which went around the wearers legs. This was the first dress I had made from start to finish!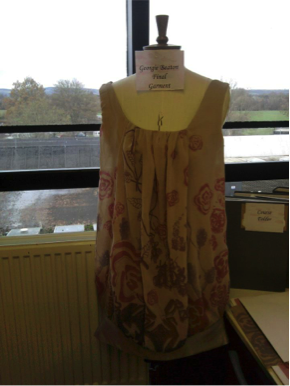 Georgina Rose screen printed fabric design and draped dress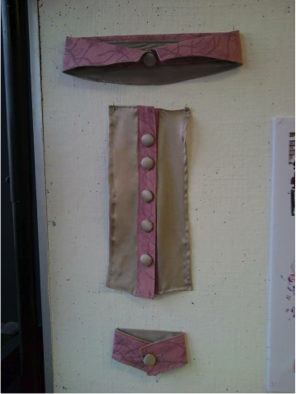 small versions of a collar, cuff and button stand
The main event of the second year was the work placement opportunity. By this time, I began to get the thoughts of having more of an interest within bridal design. Its feminine, floral, unique and so I began the search for a work placement. There was one bridal designer that I had been following and who I often researched when looking on line and that was Phillipa Lepley, based in London.
I had previously looked online, sent an email and got an interview within a couple of weeks. (I was so scared getting off the train and finding my way by myself through London with the hugest portfolio –all my own fault granted!)
I presented myself and indeed my portfolio so far to the head of embellishment who was incredibly lovely discussed my work so far (all amazing comments…I couldn't believe what was happening…I am in London showing my portfolio to a top bridal label and they love my work!)
I was offered a 3 week work placement within the embellishment team!
http://www.phillipalepley.com/index.php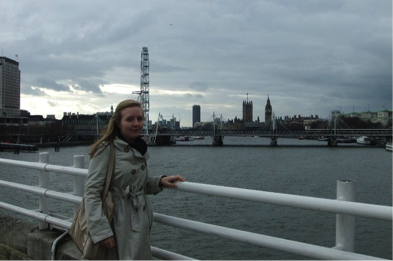 Exploring London whist living and working in the city!
The work placement began in the January and latest for three weeks, however, it wasn't all that scary as my bestie Laura also managed to get a work placement in London at the same time (fun had to come into it too!). The team were fantastic and welcoming and whilst there I was set a small project to create some embellishment pieces as seen below. I was able to see how a real company worked and to see if bridal was truly the way I wished to head – and indeed it was…I loved it!!!!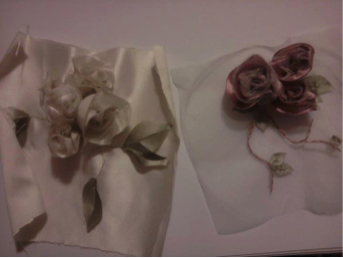 My invented embellishments ©GeorginaRoseBeaton
Once back at university and after realising my love for all things bridal I wanted to push ahead and design a fashion/textile bridal collection. A visit to Kensington Palace and a magical exhibition was what inspired this project. Focusing on each room at the palace, which had been dressed differently to tell a story… small quirky glass bottles, crystals, ghostly dresses and history filled my head for inspiration. I did question if it really was bridal that I was trying to achieve, as I still wanted to inject colour into the work whether it be through embellishment or print. To capture the mystery of the exhibition I also experimented with water colours to create a hand painterly wash over my prints.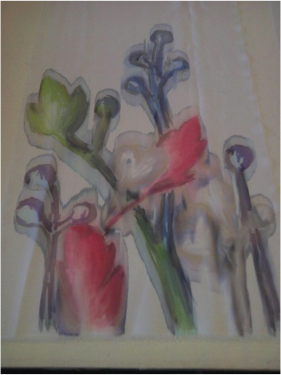 Watercolour print created for a bridal gown ©GeorginaRseBeaton
Why couldn't I design a bridal collection? Why couldn't I add colour? I knew that I was still questioning my perspective on bridal design but I certainly did know that it was something that I wanted to do more of and research into it more.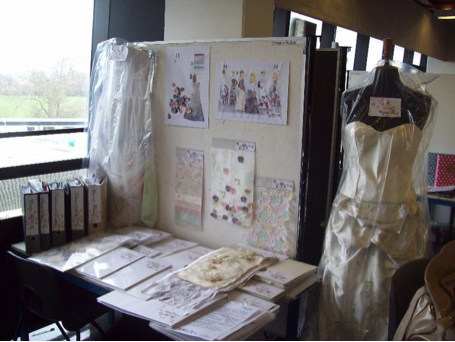 Submission of the bridal project at the end of Year 2 ©GeorginaRoseBeaton
Ending my second year at uni knowing what my focus was, I felt like I was beginning to find myself and what I really wanted to do. The summer was the start to our thesis (huge essay for year 3) and I wanted to base it upon bridal – Bridal was the focus and…I really am doing this!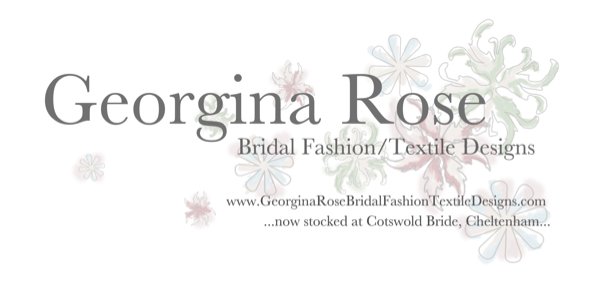 Georgina Rose Beaton
www.georginarosebridalfashiontextiledesigns.com
Studio: Cotswold Bride, Cheltenham
01242 260640