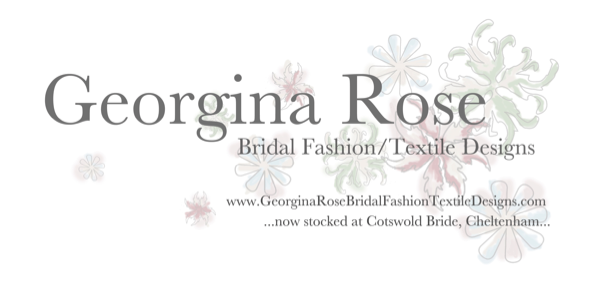 First day of Uni was a bag of mixed emotions. Nervousness – as not knowing what was going to happen and not really knowing many people. Excitement – as this was a new beginning and challenge. However, I had made my way in with the group of ladies and Laura that I had met a few days previously at the student bar. Our first year studio was on the top floor (so many stairs – I am going to get fit this year), we were asked to sit down and then we were met with the tutors and technical demonstrators. A tech dem supports you within your work so helps you produce what you are trying to achieve and they each have their own areas such as 'the sewing room', 'Print room' ect (really they are all absolute stars and the people who get you through each module!). The course layout for the year was described and we were ready to get going!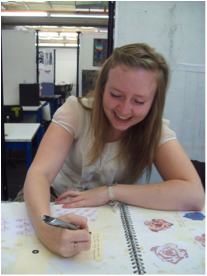 Working in the studio on a project within my first year
It was all sounding great! For the first few months we would actually try a bit of everything from Fashion to Interior Textiles to really understand what it was we wanted to specialize in. (Great. Even more pattern cutting). However, each time we completed a project it would also be about using different techniques and machinery. We would also have workshops about drawing, colour, Photoshop, print and more (even at this stage I was learning things that I liked and disliked).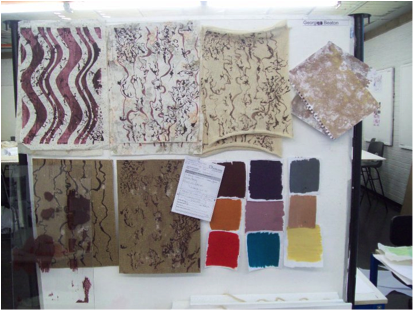 Interiors project – my studio board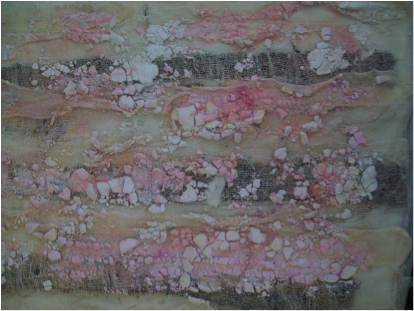 Interior Textiles – experimenting with different materials
Each module that we had within the year would be about a certain topic/brief that would be designed for a particular specialism (a specialism could be Fashion, Fashion/textiles, Interior Textiles or Surface design). For example, a 'close-up' project was about looking at an object incredibly close up and creating this into fabric and how it could or then should be placed on the body (see following pictures). Another 'like' I also had was that each one of us had our own space (own board to pin up work/ideas and table) – you can see this in the above picture. (I nested as quickly as I could!)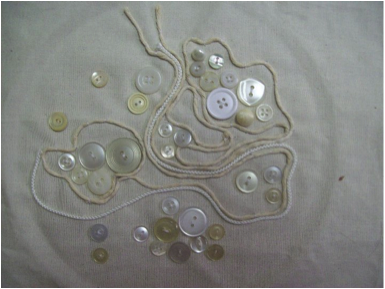 'Close-up' Project inspired by images of close-up objects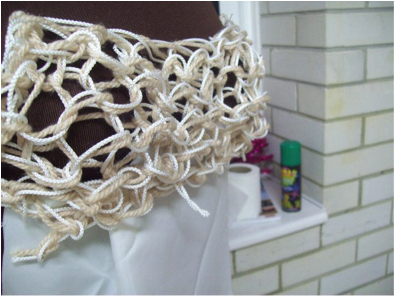 Using the fashion/textile pieces that I had created and learning how to place them for a garment.
The first few projects were tough as it was a lot of work and it was also adjusting to new techniques, ways of working and people (not forgetting it was also the longest I had been away from home). However, I was learning and was soaking up as much as I could! (Having a break by going out with the ladies at the weekends was also very fun – of course…has to be done!) I loved being able to learn about all of the different techniques and especially loved working with fabrics. I was however, still nervous about using a mac (yes…believe it or not) and being in the digital suite which was a suite dedicated to Macs where they all had Photoshop & Illustrator – eek!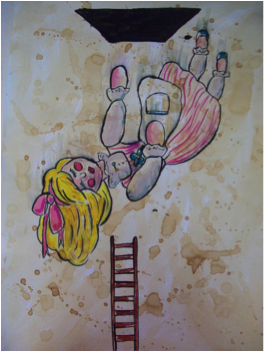 'Falling Doll', inspired by a bag of China Dolls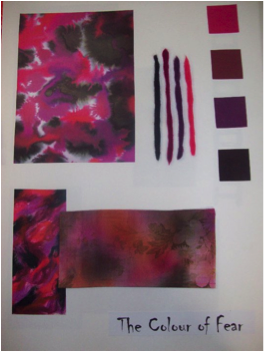 'Colour of Fear', colour board inspired by how I thought fear could be portrayed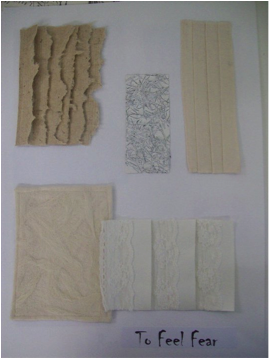 'To Feel Feel' – a way of feeling fear through textiles
One of the projects (one of my faves from yr1) was the 'Adventure' project, which focused on interior textiles. My adventure was to explore 'My Grandad's Attic'. Here I took my sketchbook, took pictures & gathered bits and pieces. Then during the workshops were we taught about colour palettes and textures and how to achieve them in different ways. (all so very very exciting!!!) However, the final project was by far the very best (I personally think so anyway) as we could specialise into a specific area…for me it was 'Fashion/Textiles'. Designing and creating textiles, which were to be used on the body through garments.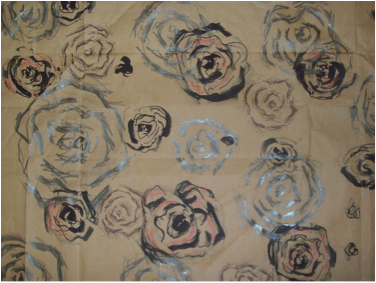 Original research and drawing which was then used as a devore screen print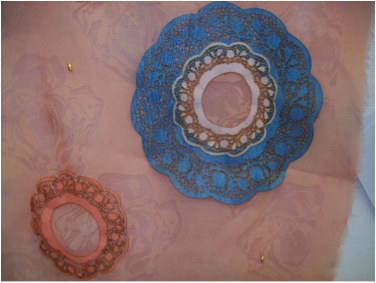 the screen print inspired by the drawing with a laser cut doily – soft and feminine.
The focus was to research a designer, learn about them, their style and their work and to then design textiles, which could then be used to construct a circular skirt (starting with very simple construction). I chose 'Nina Ricci' for the soft, feminine shapes and colours (right up my street).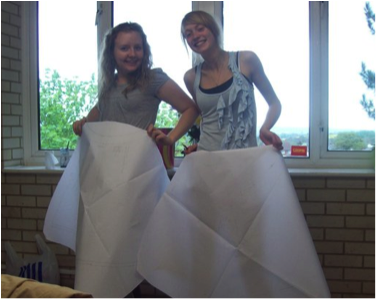 Laura (my uni bestie) and I creating our first garment…the circular skirt.
I began looking into florals, soft pastels and began designing several textiles which were also about combining several different techniques such as laser cutting (later to become my passion!), screen printing and several combinations. I really loved manipulating fabrics and re-designing their form through hand sewing, cutting and applique – all things that I had learnt through the first year of uni with lots of different work shops taught by the stars (the tech dems).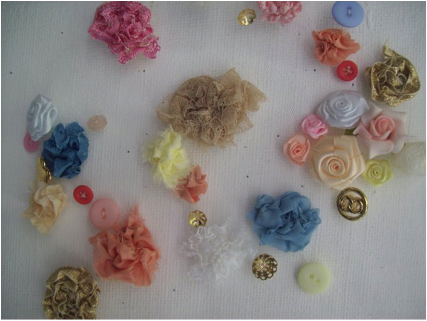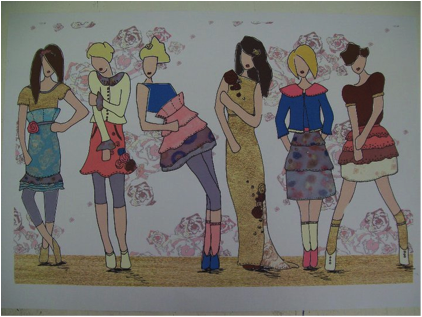 Combination of florals and the first line up I had ever done – ©GeorginaRoseBeaton
The project went over 6 weeks and was a lot of work (not compared to a third year module) with lots of things that need to be designed, created and submitted – lots of hard work and stress but…I was enjoying it – loving it in fact.  The submission of all of the work involved a display – which took a day to get right – and once complete it was the nervous wait over the summer to find out what my result was.
…After such an intense year of learning hundreds of different techniques, getting to know so many people and gaining great friends…I felt I had found my feet and that I had found something I loved. When asking myself 'Should I be doing this?' – my answer was…absolutely! (I just had to wait for my first year result to come through.)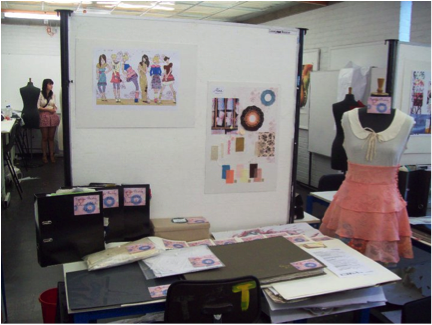 Final Module – Uni yr3 Display
©GeorginaRoseBeaton
Georgina Rose Beaton
www.georginarosebridalfashiontextiledesigns.com
Studio: Cotswold Bride, Cheltenham
01242 260640