You can't have failed to notice the fashion and celebrity world has been alight with Big Apple-flavoured flames for the last week. In amongst the slick catwalk shows and glamorous collections nestle a few key headlines. This year, one headline has to be Eden Miller's collection: made for and modelled entirely by plus-size women.
And so the debate begins again: should there be more plus-size models in fashion? What kind of role models is the fashion industry providing for its army of followers?
The attempts to integrate larger models – by which I mean UK sizes 12 – 16 – into mainstream luxury fashion can be counted on one hand. The only one most of my generation can remember is Sophie Dahl who famously shed the pounds and halved her dress size. Although it's great to see the most elite of industries striving to achieve diversity, surely it does just as much damage with each failure to sell desire with a voluptuous figure?
The flaw in fashion's plan seems, to me, somewhat brazenly standing there waiting to be spotted. We must remember that catwalk models are not just clothes hangers, nor are they airbrushed or a video game graphic. They are real people, and should represent the epitome of the female body. That, for starters, does not mean being six foot tall: who dictated that female beauty begins at 5ft 9ins? One of my closest friends is 5ft 3ins and is one of the prettiest women I know (and it's not just men who tell me that). You may not be able to change how tall you are, but wowing a crowd in beautiful clothes is still possible at an average height.
Secondly, there has to be more to life than aspiring to become a skeleton. This concept is so outdated, I remember writing an article on it in Year Nine wearing a woollen blazer and knee socks. To be perfectly honest with you, women these days don't have the time to starve themselves. It's boring, anti-social and actually a bit depressing. What women want in 2013 is simple: we want everything. The job, the house, the car, the family, the body. A body that looks fantastic and can cope with Board meetings, collecting the kids from hockey practice, taxing the car and mopping the kitchen floor – all before you convince the other half to make dinner. Let's face it: a Size Zero would have to go for a lie down halfway through, and who has time to do that?
Lastly – and this is a delicate one – I can't remember the last time I asked a woman what her goals were and heard the response 'I want to be a size 18'. Women want a body that functions well and looks great in the process. Too skinny and our bodies start to shut down; too much body fat hampers mobility and puts additional strain on our vital organs. A healthy body fat ratio, an active lifestyle, a nutritious diet: this is the ideal, because it enables us to keep pace with everyday life, and enjoy the challenges it throws our way. Where is the shame in showing this type of body on a catwalk or in a high fashion photoshoot? Why do we have to choose between skinny or plus-size, when what we really want is right there in the middle, looking shiny, happy and for all the world like it can achieve whatever it wants to in life, thank you very much?
Come on London Fashion Week: show them how it's really done.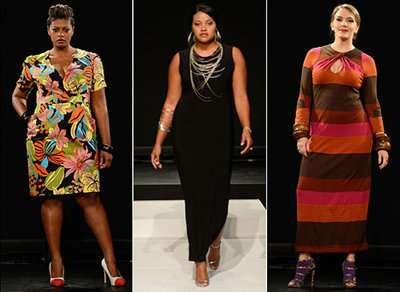 Lucy Denver is a freelance fitness and motivational copywriter with a keen interest in unique fashion, travel, CrossFit and making sushi. For more information or to get in touch, you can follow her on Twitter @denvertronix.