If you can see past the cuteness that is Harper Beckham grinning at the paparazzi, you'll notice that Victoria Beckham is looking particularly gorgeous in a slightly more unusual outfit to her usual super polished, tailored look. It's rare for VB to rock a statement piece like this Carven skirt but we love the look and we especially like how she's styled it.
Statement scenery, landscape, cityscape or bold printed skirts can be difficult to pull off but Victoria shows just how to wear a statement printed skirt like a grown up. Her secret? Well it's pretty simple really, team with a crisp, tailored white shirt and neutral heels. If you love the look, take a look at our following top picks of statement printed skirts.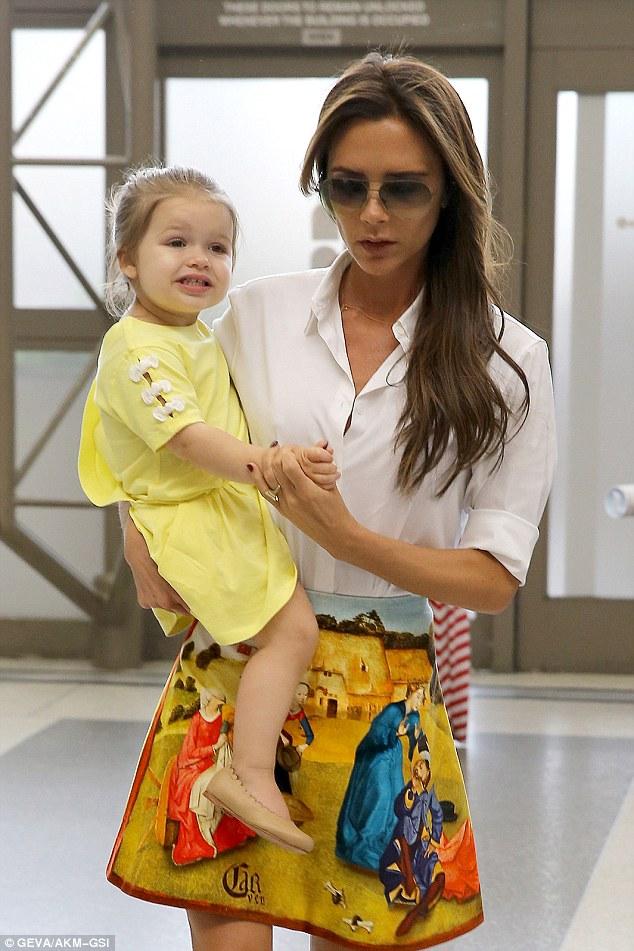 The high street has yet to catch up with this very bold rustic scene chosen by Carven but there are some fantastic unusual designs out there at a fraction of the cost. We've also spotted the perfect simple white shirt that would go perfectly with any one of them.
It's become a bit of a minefield finding the perfect white shirt lately, what with all the sheer shirts on the market, but this ASOS shirt is gorgeously simple and only £25.
With summer having well and truly arrived (at last!) we're loving the hot weather theme on the above safari printed tube skirt, £28 from Topshop. It makes a real statement and the darker tones make it a little more flattering across the thighs.
If you don't want to commit to something quite as bold as a full scene, try something like this floral printed skirt, £95 from Reiss. It's still got that Monet scene style going on but without the strong statement.
We love the A-line cut of Victoria's skirt and this palm tree print skirt from Boohoo will flatter all shapes. Sitting high on the waist it will draw you in at the right point and it's longer than you might think, stopping just above the knee. Plus it's only £12!
If you feel more comfortable in a classic midi length, this floral scene skirt from ASOS is for you. It's pricier at £50 but it's so gorgeous and the shape is so classic we guarantee it'll rake in the compliments. That's value in our book.
Feeling flash? If you've got $679 in your back pocket this Alexander McQueen skirt is our top choice. With its deep blue night sky print and orange graphic print, it reminds us of crashing waves and beach fires.
Hannah Reynolds
Guest Blogger for Cheltenham Fashion Week and all time fashion fan. Find her personal style blog at Eve Wanted a Wardrobe.
Photocredit: Dailymail.co.uk, Asos.com, Topshop.com, Boohoo.com and hotwallpaper2013.com