If you love slick, polished style your celebrity inspiration has to be Olivia Palermo. While she may indeed be carrying around a rather gorgeous Givenchy handbag, Olivia is no stranger to the high street and has been spotted on more than one occasion rocking a Topshop dress, has modelled for ASOS and Mango and is a self-confessed 'big Zara fan'.
She says she likes to look 'polished and feminine' with a 'touch of masculinity' because 'it makes it feel more comfortable, and if you're uncomfortable in what you're wearing, other people can tell.' Sound advice and she certainly practices what she preaches. Olivia is excellent at mixing up her look with statement pieces. Take this look; she roughly follows a monochrome guideline but adds in quirky prints and details like the elephants on her shorts and ribbon laces.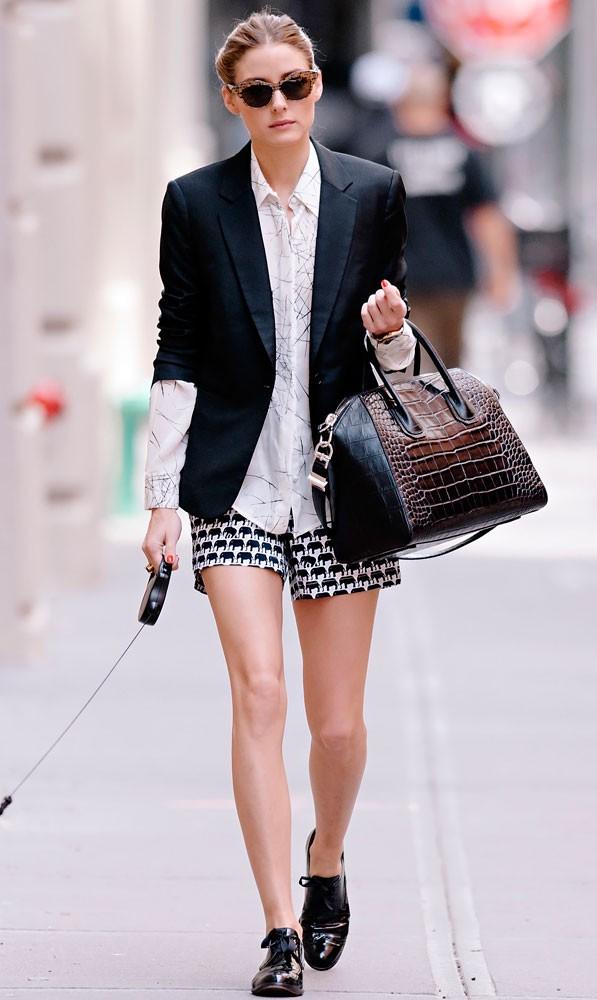 I'm a big believer in good fashion being 'all in the details'. A simple outfit can be made with little unusual touches and if you fall in love with a print but don't think it will work, embrace it and team it with basic pieces. I'm a total sucker for quirky prints but often think they might come off as childish. Olivia shows exactly how to make them grown up and luckily cute prints are massive right now anyway.
Every woman needs a classic tailored black blazer in their wardrobe. It's the perfect cover up to smarten up an outfit, I love this longline premium blazer from ASOS.
Alas, I could not track down a line pattern shirt like Olivia's but I think this polka dot Oxford shirt from Urban Outfitters will work just as well.
I thought finding a pair of affordable elephant print shorts would be like searching for a needle in a haystack but Urban Outfitters came up trumps again with these casual running shorts.
Olivia's accessories are all very classic and staple wardrobe items. If you don't have a classic pair of leather brogues, these patent ones from ASOS are perfect and just £35! You can't go wrong at that price for real leather shoes.
Cat eye sunglasses are perfect for vintage fans wanting that Audrey Hepburn look. These tortoiseshell sunglasses are from Topshop and are only £16.
There's a lot to say for designer bags. Their quality and uniqueness are unquestionable but if your purse won't stretch to Givenchy prices, this French Connection crocodile bag is a great alternative and is now on sale at £53.99.
Hannah Reynolds
Guest Blogger for Cheltenham Fashion Week and all time fashion fan. Find her personal style blog at Eve Wanted a Wardrobe.
Photo Credit: InStyle.co.uk, OliviaPalermo.com, Asos.com, UrbanOutfitters.co.uk, Topshop.com and Surfdome.com