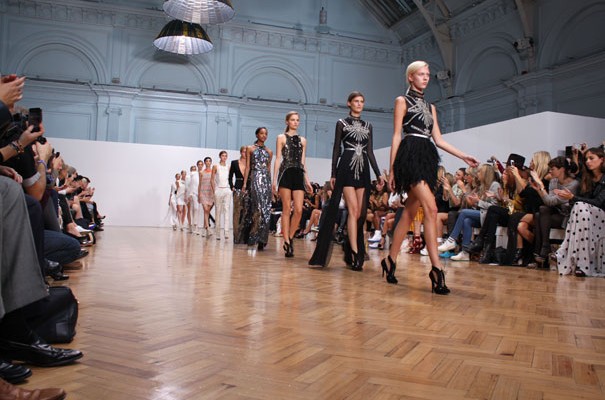 When it comes to beauty, there are so many looks, tips and tips to try; the possibilities are endless. Some of the main themes to flood the catwalks for SS13 beauty have used a whole lot of colour, while others not so much. So whether you love to stay simple or go all out, taking inspiration for your beauty looks this season couldn't be easier.
Blues, blues, everywhere
One of the hottest colours this season can be found in the sky, the sea and most definitely a lot of eyes. You've guessed it, blue. Thanks to the likelihood of, real or fake, shimmery and glossy skin during the summer months, there isn't a better time to add in a multitude of cool, deep and bright blue shades into your beauty regime. Perfect for day looks, festivals and special occasions try something sleek and cool at la Topshop Unique. Or for a more subtle, evening look why not go a little deeper like Jason Wu.
Keeping it clean
The best thing about the spring summer season is the acceptance of bearing it all. After going through the driest and dullest of skin seasons, there can be nothing better than letting it breathe a little. Whether you're brave enough to go au natural and foundation free, or prefer to fully cover up, minimalism is definitely a look to covet this season. Starting with a silky, smooth base add tones of nude, cream and pinks for the ultimate minimal look. Or if you can't strip it completely back, add a little coloured lip whilst keeping the face and eyes bare. Perfection!
Grace Parry
Part fashion and lifestyle writer, part PR & Social Media lady with a penchant for accessories and breakfast tea. Total dreamer and bookworm. Grace also maintains her own blog at www.dorothyandolive.com.
All images courtesy of Elle Uk and Modus Publicity.