Pastels are definitely 'The Terminator' of the fashion industry. They just won't go away. And for Spring 2014 they have made an impressive comeback-Arnie style.
The use of pastels was infamous in the 1950's and spawned the age of the glamorous suburban housewife-in a shift from the austerity of the 1940's to the prosperity of the 1950's. Fashion giant Dior championed the pastel skirt that had the bouffant petticoat underneath- these statement skirts were iconic of the 1950's style and were as voluminous as the women's beehives. This far from retiring look was made popular by Hollywood sweethearts; Grace Kelly and Marilyn Monroe.
Pastel hues are flattering for any age and any shape, whether it's a structured mint green suit for the boardroom that will also make your colleagues green-but with envy, or a pink, figure-hugging bodycon dress to hit the town; pastels are definitely one of the most wearable fashion trends
Popular fashion houses Jason Wu, House of Holland and Burberry presented pastels perfectly on the runway with tailored spider-web lace dresses and androgynous oversized suits.
But you don't need to extend your overdraft just to invest in this trend, high street stores- New Look and Topshop have some great pastel picks.
http://www.newlook.com/shop/womens/knitwear/pale-blue-knitted-crop-top-_305159742?tmcampid=75&tmad=c&extcam=UK_BRT_BRT_Criteo_FBX
This powder blue cropped jumper from New Look is an essential accoutrement to your pastel collection and is a steal at £14.99. Team it with another spring essential this year- a pair of 'hounds'-tooth' tailored trousers to complete the look- ideal for a nice lunch date or some retail therapy with friends.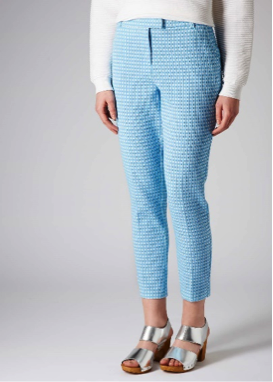 http://www.topshop.com/en/tsuk/product/new-in-this-week-2169932/new-in-this-week-493/gingham-cigarette-trousers-2663571?bi=101&ps=20
These blue gingham cigarette trousers; priced at a competitive £42.99 from Topshop are a perfect pastel pick and will have you channelling your inner 'Dorothy' – and will hopefully leave you feeling 'somewhere over the rainbow'. Style with a cute cropped fluffy jumper and statement heels if you're feeling uber girly. If you want to be a bit more edgy, team them with an oversized slogan tee, a chunky gold chain and a slick of red lipstick to bring out your inner rock goddess.
So pack away the grey and black winter staples as it's time to finally add a splash of colour to your wardrobe! Hallelujah!
By Chloe Stuart