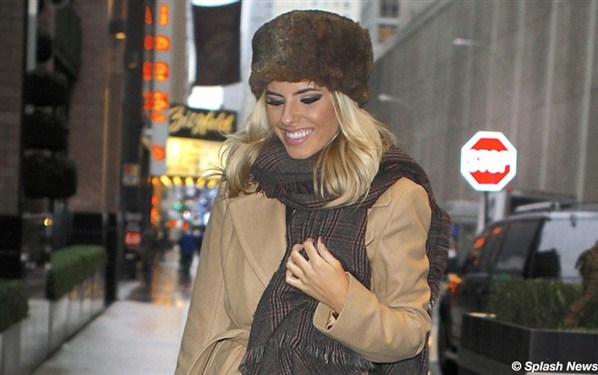 Walking through the rainy streets of London this weekend, I realised it is now official…winter is coming. We are currently still at the stage where we can be lulled into a false sense of security by a peek-a-boo sun in the sky, but the reality is….it bloomin' cold. So to keep you warm and of course stylish, I have chosen a couple of the best coats to wear this winter – perfect for a blustery walk in the park, an evening out watching the fireworks or just to keep you warm so you can continue to eat ice cream year round…no? Just me? Anyway, here are my favs…
Boyish Shape – Comptoir des Cotonniers 
Palette Coat
, £300 (
www.comptoirdescotonniers.co.uk
)
This is without doubt my ultimate buy of any AW collection. The Palette coat – favourited amongst the likes of Millie Mackintosh who purchased one this month – is the perfect mix of so many top trends: tweed, oversized, masculine tailoring, leather. This gorgeous coat gives a masculine and broad shoulder, sweeping into an oversized double breasted tweed coat, with a touch of leather at the collar to give added feminine luxe. At £300 it is pricey, but will last you beyond this winter. So really, there is no reason not to right? Well that's what im going to say to my bank anyway….Cape – Bershka 
Shearling Lined Parka
, £59.99 (
www.bershka.com
)
I am a HUGE fan of the cape, but understand that it can be a little difficult to do, well anything at all to be honest whilst wearing one. Luckily the lovely people at Bershka have created this stunning cape with arms!!!! Hooray I say! Shearling lined for extra warmth, with the look of a cape/biker jacket, you really cant go wrong. And with a price tag that is under £60, you are free to shop for more winter wonderland goodies. DELIGHTFUL!
Parka – River Island Grey Faux Fur Lined Parka Jacket, £95 (www.riverisland.com)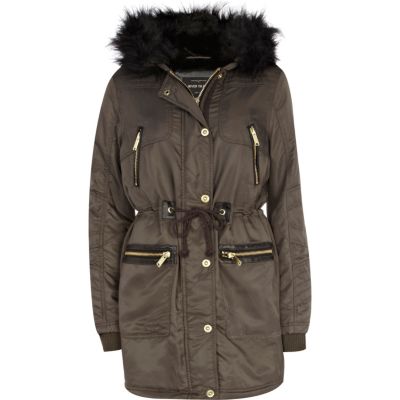 Parkas have come on a lot since the days of Kenny's orange one… River Island for example do a fab one that has a faux fur lined hood and added zip detailing to make it prettier and more feminine…something we generally strive for, like, all the time. Also, it has a great cinched in waist which means you don't have to look frumpy or shapeless. 10 out of 10 in my book!
Duffle – New Look Mink and Brown Faux Fur Trim Hooded Duffle, £44.99 (www.newlook.com)

A little retro duffle action is never a bad thing. I love toggle detailing because I think it is a pretty addition to a plain coat. This mink and brown version from New Look is great as it has leather piping, big pockets (for our chilly mitts!) and a pretty faux fur hood. So lovely and SO CHEAP! I will take 3.
Fur – ASOS Faux Fur Coat with Cat Ears, £80 (www.asos.com)

Perhaps with cat ears, a little extreme for most of us, but none-the-less still a winter staple. If you live in London it seems this is your day to day attire, slung over jeans or leather – which by the way is actually a great way to play down fur. If that's too much for those who don't wear glitter on their face to get noticed on the tube, then keep for evening. I am not a fan of real fur, but luckily for me the fake versions are very passable and a hell of a lot cheaper!
Biker – Oasis Colour Block Leather Biker, £160 (www.oasis.com)
Bikers rarely go out of fashion, which means it is of the utmost importance that you chose the right one. Oasis have loads, from leather to floral, so head there for a wealth of choice. My fav has to be this colour block version which will go with anything. A little bit on the pricey side, but you have to ask yourself – what is that cute guy staring at you and your new jacket on the bus worth? Wait, how many colours can I get this in?
So there you have it, my top coats. To be honest I could go on and on with this – checked, shearling, pink, leather, longline, dropped waist….but I don't want to overload your fashion brains and unload your purses… Just choose well and remember that a decent coat should be a little more expensive. After all it needs to keep you warm whilst you are dragging your bestie round the shops…
Becky Güth is a London based blogger who currently works for a communications company as a junior account executive in their fashion PR department. Having worked with everything from high-end French clothing to high-street homeware, Becky's knowledge of the industry is broad and varied. She spends her time split between London and Gloucester where her family still live. Becky also blogs at www.glossota.blogspot.com