Ladies, I am sure you have all noticed, it's that time of year again.
Men across the world are grooming, pruning and trimming their way to the perfect 'mo' (moustache). That's right…Movember is well and truly upon us.
Movember is a month-long campaign which raises awareness for men's health issues such as prostate and testicular cancer. The goal is for men to start the month with a clean shaven face, and then grow a moustache for thirty days to show their support. The charity, Prostate Cancer UK is the main beneficiary of the Movember campaign.
Whether it is a handle bar, pencil, walrus, magnum or a Charlie Chaplain, men will be sporting their favourite mo style during the whole of November.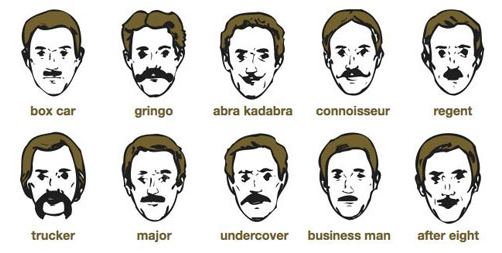 And ladies….never a truer word was spoken, when it was said that behind every great man, stands a great woman. Now I completely understand not everyone is a fan of the hairy upper lip, and it can make some women's whole body cringe and run the opposite direction. I used to be one of these women, but now I can honestly say I love them and besides, it's for a good cause so it's time to embrace it!
So let's see how we can do our bit for Movember and support the supreme power of the moustache!
So I actually read in the news this week a woman from Hull is genuinely and might I add, successfully growing her moustache in support of Movember this year. She is increasing awareness of a medical condition that causes excess facial growth in women as well as raising money for campaign charity, Prostate Cancer UK. This lady undeniably deserves a round of applause for both her bravery and charity.
However, if you are part of the lucky majority of us females that can't grow our facial hair, you need to know that there is still so much we can do to support the cause!
For a start you sign up to become a 'Mo Sista' http://uk.movember.com/get-involved/mo-sistas and start donating to Prostate Cancer UK.
Or even if you just help increase awareness of the campaign by spreading the word with a moustache…here are a few ideas to start you off.
Here are my (possibly quite obvious) home-made moustache nails…still it's the thought that counts. Get creative and design your own, or you can cheat and buy the nail transfers/stickers. I like a challenge so attempted mine free hand.
Accessorize are thriving off moustache merchandise this month. I'll admit I have already bought two 'mo' car air fresheners and a pencil (essentials of course…).
Here are some more tempting buys available from Accessorize:
£25.00                                              £12.00                                       £25.00                                             £10.00
Let us not forget though, we are raising both awareness and money for the cause, so do donate whatever you can to Prostate Cancer UK. http://prostatecanceruk.org/get-involved/donate
Movember might come across as light hearted, entertaining fun, but the campaign is serious and incredibly important. Prostate cancer is the most common cancer in men in the UK. Over 40,000 men are diagnosed with prostate cancer every year.
This is a great opportunity to create awareness to younger men, and get them to start thinking about their health. It is a topic that most men avoid and don't felt comfortable bringing up or are too embarrassed to even go for a check-up at the doctors, so this is a great chance to bring confidence in talking about prostate and testicular cancer more openly.
The more people that can help support, then awareness will increase and it may stop several prostate cancers from being detected too late.
The bottom line is that Movember tackles real issues; it is changing the awareness and openness of men's health, one moustache at a time.