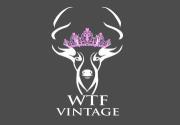 We celebrate all styles of fashion here at CFW from couture to ready-to-wear, ultra modern to vintage. Here I sat down with Kate Siller, Owner of Kate Siller Couture in Cheltenham, specialist vintage boutique to find out what inspired her to open her shop, how she got into vintage and what the future holds for such an up-and-coming brand.
What first attracted you to vintage clothing?
I've always played with vintage fashion as I love the fact that it's really rare to get a "she's got the same outfit on as me moment!" And we all know that there is nothing worse! You can also play and have fun with vintage: the complete opposite to high street. No stiff products and carbon copies of modern styles.
My love for fashion inspired my first career choice. I started working for William Giles as the manager for DNA, his store in Cheltenham. I worked here for 6 years and saw this one vintage shop grow and expand to six shops around the UK. The company's now called "MOTEL ROCKS", you've probably heard of it! This is where my love of vintage grew; this is the one man I will always look too for help and inspiration, he taught me everything in work ethics.
Agreed! I hate turning up somewhere and seeing someone wearing the same dress as me, what a nightmare! And this inspired you to turn your passion into a career?
Yes, I set up Kate Siller Couture, (formerly known as WTF VINTAGE) two years ago. I got the idea whilst styling private clients, my client list grew and grew and in the end it got so long that I decided to open a shop (Beechwood shopping centre Cheltenham). I love the creative nature of fashion, especially the customisation and styling of vintage clothing and relaying that to my customers, so much so that I was voted in the top 5 vintage boutiques in the UK by Harper's Bazaar in February this year.
Congratulations! That really is an achievement from such a prestigious Mag. Did anything new and exciting come of this new-found fashion fame?
Yes! I'm now a part of the Celebrity Racing Team where I design and work alongside celebrities, choosing and styling outfits for the races, parties and special events.

Fab! That sounds like an incredible experience, what else is in store for Kate Siller Couture?
Vintage fashion is something I'll always be interested in, I can work with products that have endless creative opportunities, there are always never ending possibilities of what can be put together. Just now I'm bringing in new vintage creators to the store to add a wide mix of styles from Elegant to Punk!
Rachel E Tranter. As a stylist, fashion blogger, social media manager and PR exec, Rachel has worked for CFW for the past two years. Rachel is now blog editor for CFW whilst also maintaining her own blog; Perfectly Presentable. Follow her here on Twitter.