If, like me, you are in fashion, it is a day of mixed emotions – wonder, excitement, fear, delight, worry, longing and sheer unadulterated terror. No, it is not something as light-hearted as your wedding day, the birth of your first child or even that time you picked up that pair of exact Louboutin replicas from Kurt Geiger for a quarter of the price (you can always just Dulux the sole). No, it is the beginning of….FASHION WEEK. In New York, London, Paris and Milan there are girls who haven't eaten anything but soup for the last month in hopes they can make it to the Holy Grail….to the FROW. And for those of you thinking I am mocking this, please believe I am not. I would give my right Manolo to even be allowed into the event space, this is my territory, my Mecca, my life. Over the next month I hope to give you a little insight into why.
Yesterday marked the beginning of New York Fashion Week. It runs from 5th  –  12th of September and is followed graciously by London (13th-17th Sept), Milan (18-23rd Sept) and Paris (24th Sept – 2nd October). For those of you who aren't aware, this is a time when the fashion world simultaneously stops for a moment and yet is the busiest they have ever been. The globe's best designers are currently adding the final touches to garments that until now have been but a dream on paper, but by the beginning of next year will already be lining the wardrobes of your favourite stars. If you are Victoria Beckham you may well get so excited by this whole process, you have to take a little break from the harsh lights and even harsher critics…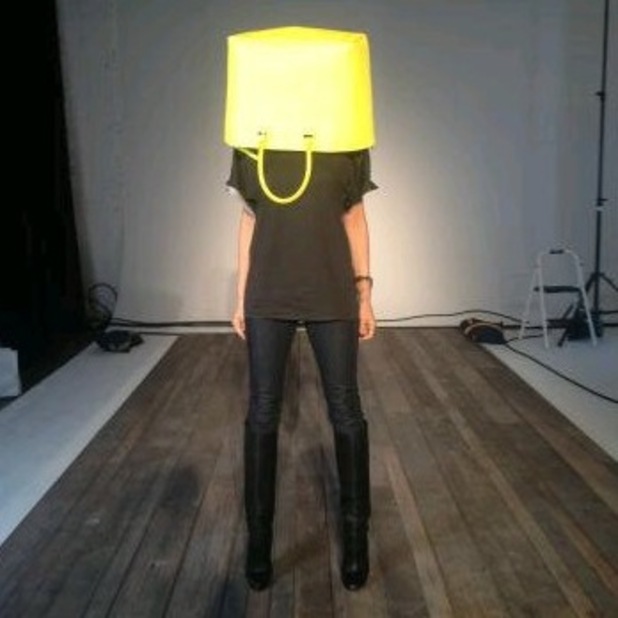 Anyway, with Anna Wintour's sunglasses firmly on the face which is attached to the body which is sat in the most coveted seat there is in fashion, we know it has well and truly begun. And here is what we have seen so far of SS14…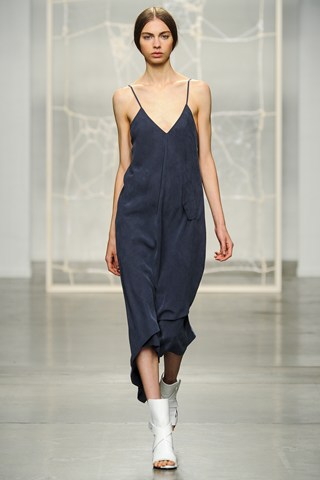 The Barely There Dress – It is cold, it is dreary, it is time to wear a slip? Seems bazaar perhaps, not if you are among the likes of Tess Giberson who paraded a host of the cutest underwear/outerwear/barely-there dresses down the runway. Team with a fur coat if you are cold or just accept it for what it is – a sexy update on your Nana's nightie.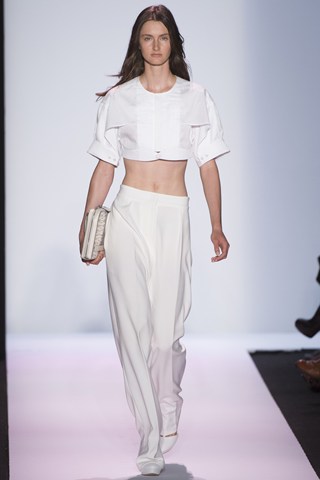 All White – Pure as the driven snow? Well with the likes of BCBG Max Azria bringing us a collection even the White Queen would be proud of, who cares? Pair white with white in SS14 and dazzle in the spring sun.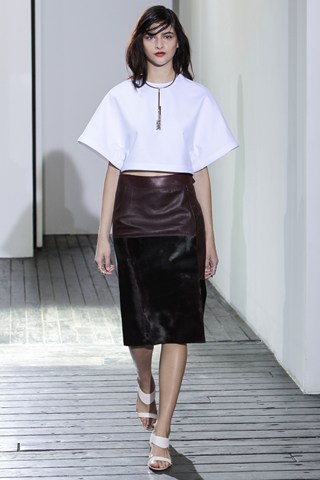 Boxy – The slimline shapes of this summer melt into boxy coats in AW13 and angular shapes in SS14. Take a liquid leather skirt, such as at Chadwick Bell and pair with a top that will poke anyone who gets too close. Square those shoulders ladies…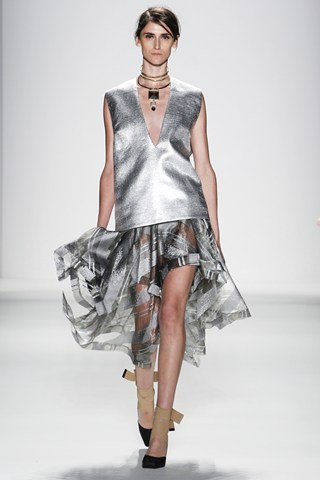 Ethereal – It seems when Rankin painted Holly Willoughby in head to toe silver, he knew what was going on. Add a little unearthly spirit to your clothing by pairing silver leather with frothy chiffon like Zimmermann to create the look of a space ballerina. Strange, but it works.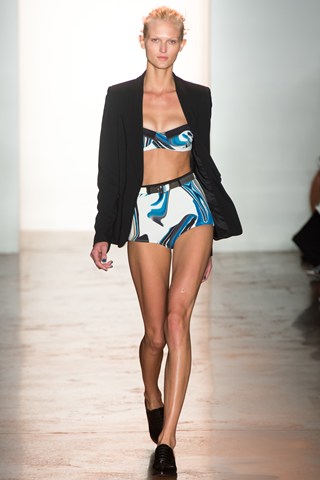 Bare Your Soul – Remember when Tara Palmer-Tomkinson went out in just underwear and a fur coat and we all thought she was loopy? Turns out she was just VERY ahead of the crowd. Love the skin you are in seems to be the new trend at fashion week as everything from midriffs to cleavages were on show at Peter Som…its all well and good when you look like Cara Delevigne I suppose.
So there is just a little taste. I will be back with more trends and looks each day. Just remember, you may not like the fashions, the models or the thought process behind these events, but to people like me (and there are a lot of us) this is an art form of the highest level. And if you still aren't convinced, well I will try over the next four weeks to change your mind.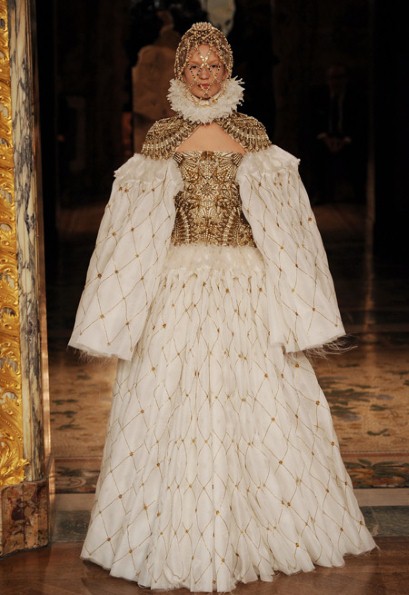 Finally with every post I will leave you with a past favourite fashion week ensemble. Today….Alexander McQueen AW13. Enjoy!
Becky Güth is a London based blogger who currently works for a communications company as a junior account executive in their fashion PR department. Having worked with everything from high-end French clothing to high-street homeware, Becky's knowledge of the industry is broad and varied. She spends her time split between London and Gloucester where her family still live. Becky also blogs at www.glossota.blogspot.com