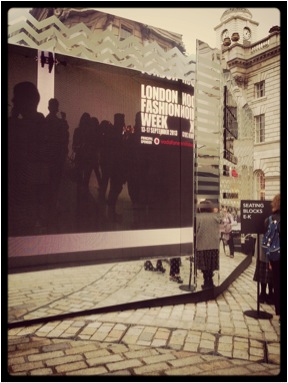 Sabrina Shah Hakim – This was my experience
I started working as an intern at Holly Fulton on the 5th of August 2013 for approximately 6 weeks before the show.
Saturday the 14th of September 2013 is definetaly a day I will never forget. Being a textiles design student I was well aware of the long hours and lack of sleep I was about to endure leading up to the show to help present what is Holly Fulton Spring/Summer 2014 collection.
This day started out a gloomy one, I had been in the studio until 5 am that morning to help with the finishing touches on the collection. I had woken up that morning in a panic because I had constantly snoozed my alarm. Who thought putting that button as an option was a good idea?! Even so, I arrived at Somerset house on time and ready to do my job one last time – as the show counted as my last day at Holly Fulton.
The scene at Backstage A was a hectic one. The tiny backstage room had to fit too many people and too many things that we found ourselves stumbling over one another.
With the models having to be in hair and make up and the dressers (amongst them was me) having to organise and style the looks, the team that steams the garments before going down the runway as well as the team of photographers and journalist having to record every moment of the preparation it created a sense of rush that was addictive. This will definitely not be my last fashion week.
The show had started 15 minutes (fashionably) late but went off without a hitch! The model looked like a dreamy sense of perfection with Holly Fulton deriving her inspiration from the 1970's. The pastel colours and over the top prints made this collection not only fun to be apart off memorably to witness.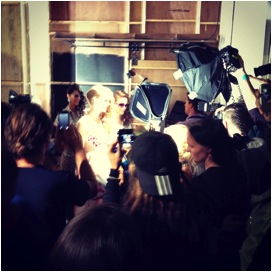 The moment that the music had finished and Holly Fulton had done her wave to the audience I as well as Holly's team felt a concoction of different emotions. A sense of upset that it now over but it allowed an overwhelming sense of happiness that the collection turned out so beautifully. In retrospect, the stress leading up to this point has been worth it even though it did not feel like it at the time.  For myself, I did not feel a sense of relief until I finally got home and spent my first Saturday afternoon in 3 weeks in bed and finally getting some well-deserved rest.
To conclude my time backstage I would say the experience is one and a million. The rush is an addiction for anyone in the fashion industry and the sense of accomplishment was one not to take lightly as the hard work that had gone into making this collection has paid off.