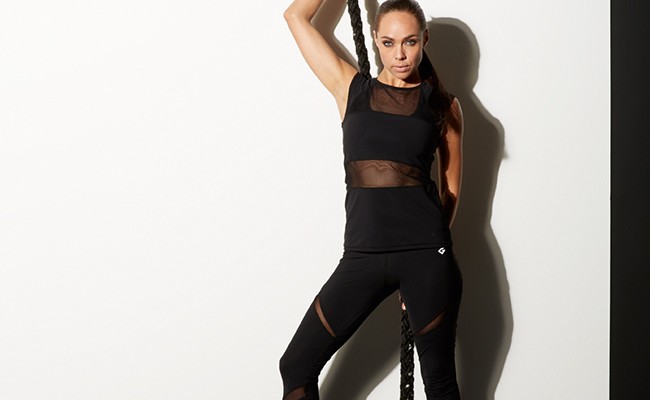 We Brits can be proud to have our capital city rank amongst the most fashionable cities in the world, but where does sports fashion feature, and what about the rest of the UK? Is our fashion capital in fact the game, set and match of British sportswear talent? A decade ago perhaps it was – Stella McCartney for Adidas has been an unchallenged staple for some years now – but 2013 has uncovered a myriad of sportswear designers both in and outside the glowing pool of London's city lights.
Currently in possession of the yellow jersey (luxuriously draped, of course) is Midlands-based Gymluxe. As the name suggests, this is a brand dedicated to creating luxury, affordable pieces to make your workout a joy rather than a chore – and boy, have they succeeded. Owner Lara spotted a niche in the sportswear market and couldn't help puting her creative flair into action to fill it. "Actually, it wasn't so much a niche as a gaping hole," Lara reminds me, as we discuss the state of our pre-Gymluxe wardrobes. "The sportswear market doesn't give fashionable women much choice, and I wanted to change that. If we spend so much care and attention on what we wear for work or dinner with friends, why should we be expected to throw on any old T-shirt and joggers to go to the gym?"
Lara is absolutely right. There has been a real disconnect between the stunning clothes on offer on the high street and catwalks, and the basic leggings and t-shirts available to any woman who wants to stay fit and healthy. Whether it is the Olympic Effect, the state of the economy or just that the penny has finally dropped, more of us are wanting to get and stay in shape. Simultaneously the fashion world is responding, with designers all over the UK choosing technical fabrics and testing garments to destruction. Because these are clothes that have to perform day after day, there is nowhere to hide if you get it wrong. Gymluxe have got it absolutely bang on.
I tested out the Luxe Sports Bra (£39.99), Diamond-Cut Capri (£59.99) and Power Mesh Tee in a vibrant blue (£54.99), and I'm inclined to say it was the most comfortable workout I've ever had. I work out at Fitness First in Cheltenham and have a tendency to sweat a lot, so the capris and layered top-half were perfect – I could remove the Power Mesh Tee halfway through my interval sprints and still look great (if a little red-faced). If you run or cycle outdoors I'd recommend the Diamond-Cut Leggings, which also have mesh panels for added breathability and general sex appeal. Actually, get some anyway, even if you don't run – I am planning to wear them with boots and big jumpers throughout the approaching winter.
Where was I? Oh yes – one of my pet hates with some sportswear – other than it looking really boring – is that it doesn't wash that well and takes ages to dry. The Gymluxe collection is made from the finest technical fabric that really does wick away sweat and, because it is such a light fabric, it dries almost instantly. Which means you can wear it the next day, too. I also found with the capris there was no annoying riding up or down of the waistband, which is the only fault I've been able to find with my Under Armour pair. These Gymluxe capris stay put and give you a flattering silhouette while they're at it.
The only downside was that I didn't have a pair of Diamond-Cut Leggings to change into. Luckily I did have a Luxury Drape Tee in marl grey, with the most gorgeous ruching down the back, to keep me smiling all the way home.
I actually smile to myself every time I see my little stash of Gymluxe clothing. It may be a small, newly-launched company based near Birmingham, but it is already gracing the pages of Women's Health and Glamour magazine, SportStylist.com have picked up on it and Beth Tweedle is said to be a fan. The idea of supporting local businesses is great – and when the products are this good, it's a no-brainer.
The lovely Gymluxe have given Cheltenham Fashion Week readers an exclusive 10% discount on purchases. Just go to www.gymluxe.com and apply code CHELTENHAMTEN
Lucy Denver is a freelance fitness and motivational copywriter with a keen interest in unique fashion, travel, CrossFit and making sushi. For more information or to get in touch, you can follow her on Twitter @denvertronix.