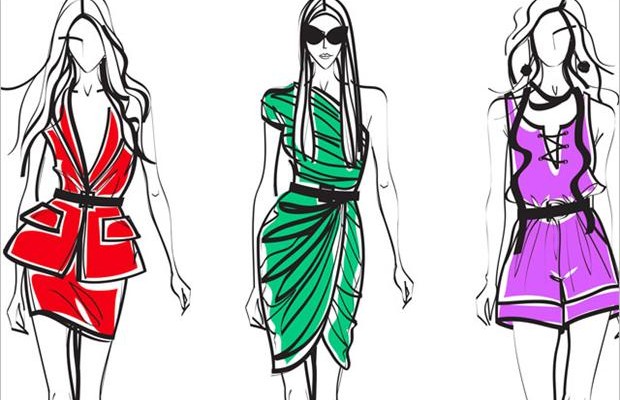 So what will your 'keepers' be this season?
'Keepers' are those pieces in your wardrobe that make you look slimmer, taller, and more radiant and go with everything else.  Those items you couldn't live without.  None of us can afford to replace our wardrobes each season.  Instead, we should be looking to build a closet of reliable core pieces and keep it fresh each season by introducing some wow pieces.
Let me guide you through the new trends arriving in store and help you to make great choices.
PRINTS & PATTERNS:
Jacquard & Plaid 
Prints and patterns are big news this season. Expect to see jacquard and plaid used in tailoring, especially illustrating the 'mannish' trend.  Jacquards are being used for structured pieces, whilst plaid is mostly to be seen in oversized coats and trousers.   Treat loud checks with caution as they are notoriously hard to wear and will add pounds to most.  Jacquards, however, are a great way of introducing some interest and texture to an outfit as well as updating a look.  See the burgundy Jigsaw jeans later in the piece.
Dark Blooms
One of the key prints this winter, that was also prevalent last year, is dark florals.  This fabulous jump suit from Top Shop is a fabulous example and a great buy ahead of the party season. It is completely stunning and incorporates some flattering details. Consider styling more casually with brogues and a blazer for a fashion-forward daytime look.
For those who of us who are a bit scared by print and you know who you are…. dip a toe into the water with accessories. This clutch bag designed for LK Bennett by Caroline Issa is delightful and would be in your closet for years to come. It adds a real wow to a simple tuxedo, or black dress; whilst, this scarf from Ted Baker would instantly update a trench, or give a different feel to a black leather biker jacket.
PS. Accessories are a great way of trying out a trend.
Animal and Camouflage Print
A perennial favourite and still very much on the scene is animal print, which also makes a surprisingly good 'neutral'. Use it to add an interesting twist to colours such as scarlet red, cobalt blue and emerald green, as well as its tried and trusted friends black and charcoal grey. Remember to only ever wear one animal print at a time.
For those who suit a cooler-based palette this box-pleat skirt by Whistles is a real winter winner in grey, white and silver. The 'Teddie' clutch from Hobbs is not only a great way to introduce animal print, but also feels fabulous with its soft fur finish.
Texture will be a key feature in bags with fur and shearling giving us even more reason to want to stroke our favourite bags this winter. On a similar vein to animal print, Christopher Cane introduced camouflage to the catwalk. For great high street versions look no further than Whistles which is stealing a march. This fine knit sweater is the perfect transitional piece.
TEXTURE:
Leather
Another trend which has flowed through from last year is leather. As well as the 'real thing' there are also some great faux versions around including this cute circle skirt by Whistles. Priced at £95 the cost of faux is more 'accessible' than real leather, as well as being a finer fabrication it is also sometimes less bulky and more flattering to wear.
 Fur
Fur and fluffiness is not just being restricted to bags this season but can be found in many guises. Like this fabulously fluffy teal 'Boyfriend' style coat from Top Shop. This would add real fashion edge to the simplest of outfits. Team with boyfriend jeans, brogues and a fine knit for a relaxed but pulled together look which nods to the season's 'mannish' trend.
Always allow texture to do the talking in any outfit. Use it on areas of the body where you might like to add volume. So, those with a column silhouette can wear texture on any part of their body they want to add curve. Pear shapes should confine to just their top half, maybe with a top such as this pony skin structured tee from Hobbs. Whilst, Apples should use it to create a curvier bottom half to help balance out a busty silhouette.
PS.  Remember that texture adds volume – use it to create balance
COLOUR:
Pink
This season pink is definitely the new black. Powder pink, red and burgundy are all waiting to add a rose-tinted hue to our wardrobes. They can also be worn with one another, as you can see from this M&S campaign shot (also featuring animal print worn with red and pink). If you opt to wear pink, make sure it works for your skin tone. If you suit cooler tones then more blue-based pinks will be for you. A soft powder pink can work exceptionally well for red-heads with porcelain skin-tones.
The acid test is to really look in the mirror and be honest with yourself about what the colour does for your complexion. Does it make you look sallow, or does it enhance your natural beauty? If the pink is too cold for you, consider more russet pinks, or hot reds like this gorgeous coat from Zara. These burgundy jacquard jeans from Jigsaw would team well with many pinks, or reds and would be less harsh than black.
Diana Freeland, legendary editor of Harper's Bazaar and American Vogue famously said "Elegance is refusal".  So learn what to walk away from and what to embrace.  In a nutshell, style success is knowing what works for you and what would look better on someone else.  Have a great season.
Kate Parker
As one of Gloucestershire's leading Personal Stylists and Personal Shoppers, Kate makes fashion work for people by finding the capsule wardrobe that's right for them. She is also columnist writing regularly for Weekend magazine answering readers' style dilemmas.  Follow her on FaceBook or twitter.