It's getting chilly guys and those winter days and nights are upon us.
This time of year is great for fashion as its all about layering and feeling snug as a bug – but this year, I want to be snug and looking glamorous too and what better way to rock the glam look than with a bit of faux fur??? Am I righhhtttttt?? Prrrrrrrrrfect.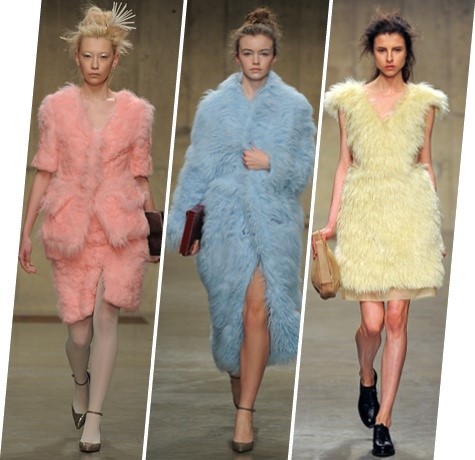 From left: Two looks from Ryan Lo's fall 2013 collection and one from Simone Rocha.
Again there's so many impressive, furry steals on the Internet and the high street.
Check out these cheeky bundles of joy for a quick and glam wardrobe update:
Teddy Fur Pea Coat – £79 @ Topshop
Team with a big blinging brooch, big earrings, a nice knitted jumper and pencil skirt or skinny jeans.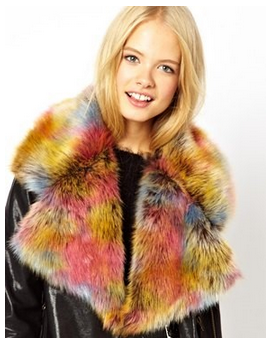 Multi Faux Fur Lapel Collar – £24.00 @ ASOS
Winter wardrobe essential alert!!!  This comes in 3 colours: the above, blue and pink.
Add to any coat or jacket for an instant glam attack.
Knitted Fluffy Cropped Jumper – £36.00 @ Topshop
Rock this with a lovely black leather skater skirt and team with a chunky necklace for a cool 90's vibe.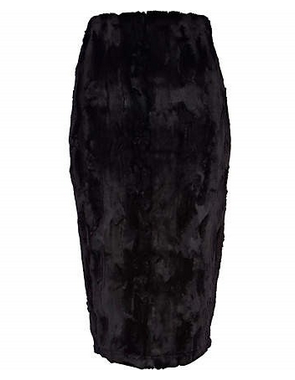 Faux Fur Pencil Skirt – £30.00 @ River Island
You'll never have chilly legs again in this saucy number.
Bright Blue Faux Fur Beanie Hat – £20.00 @ River Island
Never a dull winter moment in this furry beauty. I recommend if you want to get noticed.
Faux Fur Clutch bag – £24.99 @ New Look
Gorgeous luxe. This bag can take you from day to night. It's pprrrfect.
Faux Fur Finger Warmers – £12.00 @ ASOS
Jazz up those hands ladies. So cute and toasty.
The greatest thing about faux fur is that you can dress it up and down. Personally, I'll be wearing my faux fur lapel collar 24/7 just because its sooo lovely and soft. I would wear it jogging if I could!! You can go wild with the bright blue hat and faux fur pencil skirt or keep it chilled with the bag and gloves. I've got all angles covered for you here ladies.
So we now have the faux fur sorted. Final touches? You know me I love the bling.
Throw on some big sparkly rings, necklaces and earrings and you're good to go.
Topshop and River Island have the high street jewels nailed at the mo, WINNER!!
1950's luxe eat your heart out and glamtastic on a budget – great winter treats all round.
Hi, my name's Serena Louise Aldred and this is my Fashion Blog Post. 
I hope to write some inspiring and interesting posts about street style and ways to wear current fashion trends on a budget. I want to help invoke confidence in being yourself and finding your own unique style. I'm currently working on my own fashion blog…so watch this space. 
I'm studying at the London School of Styling, part time – in hope of becoming a fashion stylist. 
If you want to get in touch please send me an email: celerystick22@hotmail.com