I dreaded geometry lessons at school. Maths in general in fact was never my forte. But recently, I've embarked on a bit of a love affair with all things rulers and protractors, for the geometric print has nuzzled itself into my wardrobe quite seamlessly. It's bold and it's fun, but most of all it harks back to one of my favourite decades in fashion history; the seventies. Back then in the days of flares, platforms and man hair (so much man hair!), geo prints were a staple of seventies fashion and home décor, so much so that homes would be covered in geometric wallpaper, and then another epilepsy inducing print on the carpet. This I would say, could be dangerous. Alas, the modern geometric print, won't be having you like totally space out, instead it will be a fresh twist on pattern with a subtle nod to yesteryear.
Generally, the key to looking less mushroom trip, more modern sophistication, is to keep to one pattern. Less is most definitely more with this one. But if you're feeling extra kooky, why not mix top and bottom? Fashion has no limits. There are only hard and fast rules, if you make it that way. But here's some tips to style it out. If you're going for a dress, like these from Zara and River Island, keep accessories minimal. Geometric earrings or rings could work to complete the outfit, but keep it subtle. Out and out chunky jewellery may look a little too much, but if you're going for gaudy, a bit out there look, Pat Butcher earring could work a treat.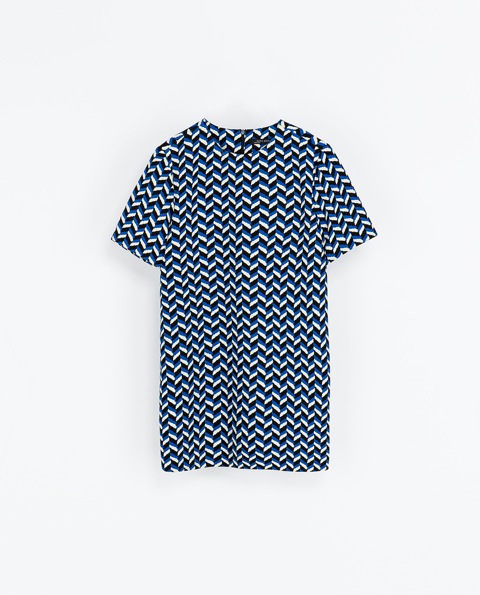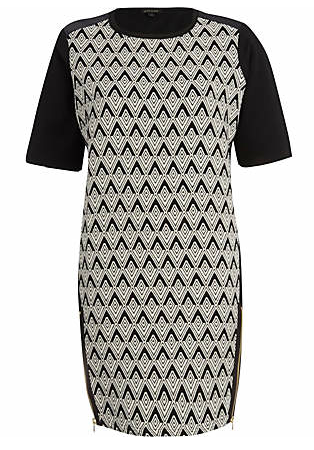 Geometric trousers, like these also from Zara, can be teamed with a plain cotton tee or, as it's winter, a chunky cable knit sweater. I actually stumbled across a ridiculous article recently entitled '10 styles That Make Women Look Fat'. Printed trousers were one of such styles, and were said to have an even worse affect on short women. As a 5'4"er myself, I can categorically say this is absolute nonsense. Apparently we should all be walking around in black, or pinstripe straight leg jeans. That just doesn't sound fun. If something looks nice, and if whoever is with you agrees, go ahead and buy it. Experiment. Have fun. Be happy. That's what the seventies were all about right?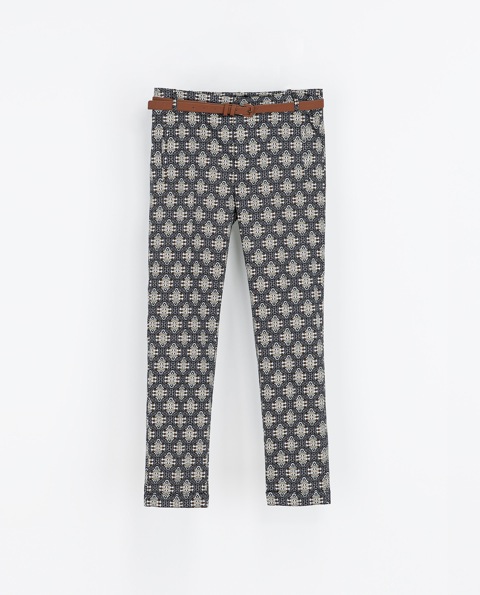 Shirts are fun to play around with as well. If you're looking to keep the print subtle, why not try an open shirt with a basic white tee underneath teamed with jeans? Geo print shirts worn like this can spruce up a boring outfit instantly! A nice little bit of printed collar tucked over the top of your jumper neckline also looks cool, if you want to keep yourself a little warmer. This Topshop one has hearts on it…awwwh.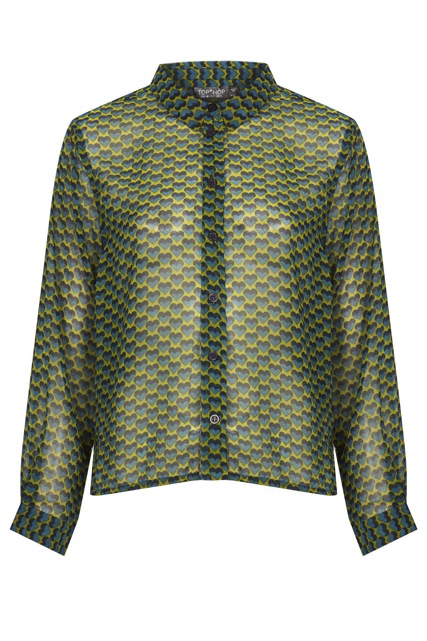 Geometric prints are actually everywhere at the minute, even your favourite Christmas jumper probably has a mathematical touch. Being bold with your fashion choices is all about trying things out, and not taking yourself too seriously. Wear print, and don't be afraid of it.
By Rosie Webber