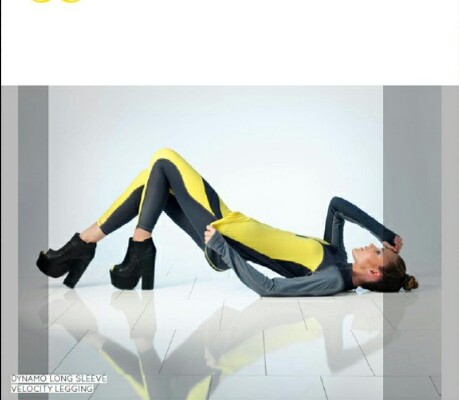 People like Charli Cohen restore my faith in the fashion industry. Graduating as Womenswear Student of the Year from Kingston University, being touted as one of Britain's hottest young designers and receiving multiple awards nominations for her high-fashion fitnesswear might make some young women diva-esque to say the least. Not Charli. She is an absolute delight, as I meet her at Notting Hill's sumptuous The Library Gym for a fashion show with a difference. Her debut SS14 VIS Collection is being showcased: not on a traditional runway, but on models kicking and punching The Library's personal trainers, proving this is fashion not afraid of a little hard work and a few beads of sweat.
Charli cuts a diminutive figure in front of the slate-grey and canary-yellow backdrop of her debut collection. She is clad in two of its garments (Voltage Tee and Laser Leggings) which I immediately want to buy. Then I see the Velocity Jacket hanging behind her, and my heart melts. This is the sort of fashion that makes you go to the gym five times a week, just so you can show it off: everyone would be jealous if you rocked up in any of Charli's designs. As a qualified personal trainer and nutriton expert for good measure, there are few people better-placed to be designing our workout wardrobe for 2014.
As I covet the Laser Capri I ask Charli about the fabrics she's used, and relay my tales of woe with high street gym purchases (fraying seams and labels that rub you raw after 25 sit-ups). No such worries here. Charli uses technical fabrics Colorado and Vuelta (from INVISTA, the makers of Lycra) to create beautifully soft, flattering garments that wick away moisture and regulate body temperature, helping you stay warm or cool whatever the weather. Ideal for studio workouts, yoga and running, the oversized outerwear coupled with form-fitting base layers like the Dynamo Bra will work as hard as you do – and make you look pretty damn great while you do it. The news just continues to get better: with VIS SS14 being designed and produced entirely in the UK using eco-friendly fabrics, you can do your bit for British fashion and the environment in one easy move.
Benevolence aside, more self-gratifying reasons why you should bag yourself a piece of Charli Cohen magic are plentiful: getting a kick from pre-ordering direct from the designer, and anticipating the arrival of a beautiful package of fashion wonderment being one of them. I can't wait to have a few Charli Cohen pieces hanging in my wardrobe: although in all fairness, they are far more likely to be found on me: this is one collection you will want to wear all the time. Check out the Look Book at www.charlicohen.com – it looks every bit as good with heels as it will with your running shoes.
VIS SS14 is available to pre-order until 30th September from www.charlicohen.com and will be in selected retailers from early 2014. Alternatively you can contact @denvertronix or @TrainWithCharli on Twitter for more details.
Lucy Denver is a freelance fitness and motivational copywriter with a keen interest in unique fashion, travel, CrossFit and making sushi. For more information or to get in touch, you can follow her on Twitter @denvertronix.