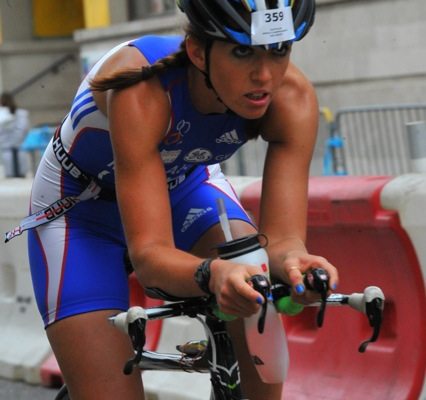 When I spoke to Samantha McClary, GB age group triathlete and duathlete, about doing a feature for Cheltenham Fashion Week, her first question was 'can I talk about dayglo? I love it. Half of my wardrobe is dayglo.' Of course I said yes – personally I think as the evenings draw in there is no better time to wear a few bright items alongside our staple monochrome. A bit of high-visibility goes a long way with other road users when you're out running or cycling at this time of year. That's my excuse for buying dayglo, anyway!
Says Samantha:
Being active is part of my lifestyle. If I'm honest, I'm not sure who I'd be without it. I'm someone who lives by deadlines – in work and play.
As a journalist on a weekly title I have no option but to get it done and get it done in a specific time. There's no "oh, I won't bother this week". That's something that I take into my training. Set yourself a deadline and hit it.
Triathlon and duathlon – both of which I've been fortunate enough to represent GB at – are great for that. You can set overall deadlines/targets and specific ones. If you're like me and get bored easily the multi-sport aspect means there's always something to be working on. And, unless you are one of the gifted few, there's always one discipline that will be a real challenge for you. And really there's no point doing something if it doesn't test you, right?
For us as women, being active, getting out there and just doing it is so important. It keeps us fit and healthy, looks after our bones, keeps our minds fresh, takes away some of that rage I know we all get at certain times! And of course gives us an excuse to go shopping, which is especially attractive now there are some great female specific sportswear retailers out there. My personal new favourite is Australian brand Lorna Jane. If like me, you're a little lacking on the boob front, their sports bras pack a little something extra to give you that little bit more confidence to work your workout hard. And, the padding doesn't move and bunch up when you wash it. Bonus.
Currently I couldn't live without my Nike Hyperfeel trainers. Since buying them I have pretty much lived in them. Not only because they are dayglo and I LOVE dayglo, but because they are divine to run in. It feels like you are running on clouds in bare feet. You can't help but push yourself hard in these shoes.
I'm also addicted to my Nike Sportswatch (in dayglo yellow of course). For me a piece of kit like this that tracks time, distance, speed and pace is invaluable. And it looks cool.
Music also has a role to play in training. The right tracks can inspire you to run faster, longer, harder, etc. so it's important to have the right headphones for your ears. I'm lucky enough that most "rabbit" earphones fit me and don't slip out as soon as you start to sweat. But if you're not as lucky as me, Yurbuds are a great sport earphone.
One word of warning on the sweat front though. When you're running with an iPhone or iPod do not put it down your top. It turns out they can't survive boobsweat over a sustained period! If you do want to carry it in your top, check out Lululemon's specialist running sports bra – the stuff it bra – which has special pockets on your boobs. Genius!
Lucy Denver is a freelance fitness and motivational copywriter with a keen interest in unique fashion, travel, CrossFit and making sushi. For more information or to get in touch, you can follow her on Twitter @denvertronix.