The weather is getting colder and colder and it is now more important than ever to keep your skin moisturised. Moisturising is the most important step in the daily beauty routine anyway and due to cold weather; skin needs even more protection and hydration. The reason for this is because during the winter, the air is much drier due to the drop in temperature and change in weather patterns. As a result, the skin dries out, and if left untreated, begins to flake or even crack which can be painful.
However, with so many moisturisers available, the options are endless.
That's why it has been perfect timing to discover Body Armour Skincare products. I have been using Body Armour's Face Cream for the last two weeks now and I can honestly say I have noticed a positive difference in my skin.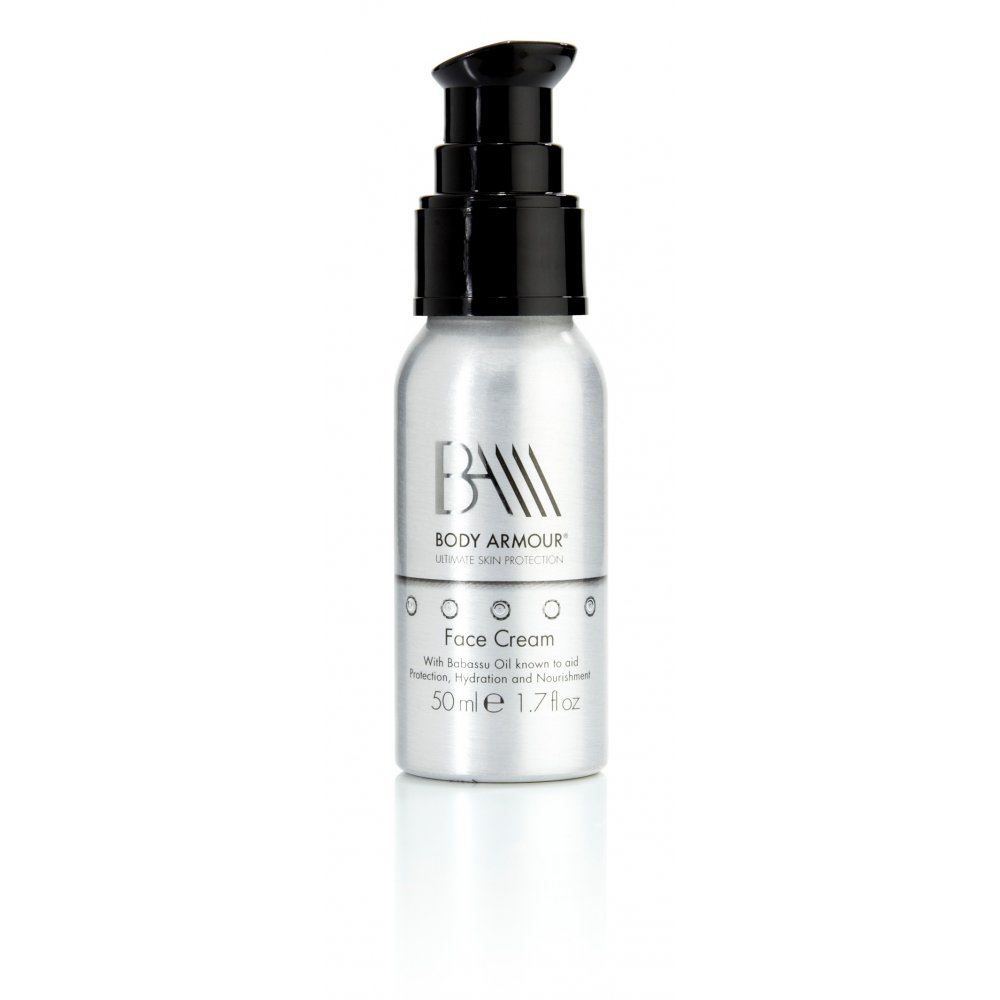 The rejuvenating, revitalising and lightweight formula has lifted my previously dry skin to a smooth complexion, banishing blemishes and making it a lot easier to apply make-up.
The consistency of the face cream at first appears heavy compared to regular moisturisers, but it is ultra-absorbent and doesn't leave a thick layer on the skin. But best of all a little can go a long way!
The Body Armour products are recommended for both men and women, and are ideal for those requiring a daily effective facial moisturiser that offers hydration and nourishment for active skin. Not only does it feel great but it smells great. It has a subtle and fresh floral scent. The silver pump aluminium container is also recyclable. The great thing about the formula is that it is pH balanced, meaning it will not aggravate your skin. It is also paraben free, containing natural ingredients.
Lets take a look at the natural ingredients:
Aloe Vera 
Avocado Oil 
Babassu Oil 
Cocoa Butter 
Shea Butter 
Vitamin E

I want to take a further look into Babassu Oil. This oil comes from the fruits of the Babassu palm trees and is a natural skin protection. The oil is naturally rich in Vitamin E and Phytosterols which act as the oil's anti-inflammatory and anti-oxidant agents. The formula of the oil also blends well on the skin which makes it a good moisturizer without the greasy and oily after-feel.
Body Armour Skincare has formulated a range of professional grade formulations, combining the need for natural active ingredients to nourish the skin with ultra absorbent and cooling properties that will sooth and keep the skin free from oily residue.
Reviewed and approved by Cheltenham Fashion Week!