If you are a woman in business you probably are looking for more business or looking to become better at being in business, so that's where I AM WOMAN bridges the gap. I AM WOMAN helps women find more business opportunities and how to make the best of themselves in business. They showcase fantastic role models who have walked the walk of success and who can shine a light to where you might be looking to take you and your business.
The meetings are informal, fun, energised, motivational, inspiring and a great place to meet women looking to place business with other women in business. You will come away with referrals to new business opportunities, new friendships seeded, new skills learnt and great ideas to start putting into action straight away in your business.
You don't need to be a member, you can sample two meetings before a decision on membership would need to be made. Only 100 memberships are released each year and therefore limited membership opportunities are available.
Our Cheltenham meeting is held at the gorgeous Queens Hotel on the Promenade and starts at 6:30pm with a cocktail and canapé networking reception where members and guests have an opportunity to meet the speakers and get together with 'like-minded' women who look forward to doing business with women.
Cheltenham I AM WOMAN Business Club meets on the second Wednesday of every month (except March when we meet on the first Wednesday due to Cheltenham Race week) at the:
Mercure Queens Hotel, Promenade, Cheltenham. GL50 1NN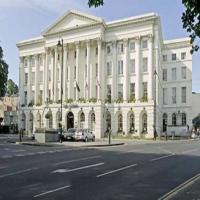 I AM WOMAN is for women who are:
• Starting a new management role and need training that sky rockets their confidence, whilst developing their business, management and leadership skills.
• Who are already in business, management or leadership roles and want to be more effective in what they do.
• Hungry to gain greater experience and wanting to progress further in their careers.
• Need to underpin their skills with qualifications in coaching, mentoring, supervision, business, management & leadership.
Come join in January and start developing you and your business today! Book here