Rihanna is one of those stars who really gets her teeth stuck into fashion. She's completely fearless, rocking a teeny tiny pair of hot pants one day and a maxi dress the next. While a lot of people slate Rihanna for her flesh flashing ensembles on and off stage, you cannot deny that her love of fashion is almost as apparent as her love of performing.
You only have to take a look at her Rihanna For River Island range to see that the Diamonds singer has a keen eye for classically cut, staple wardrobe pieces. She makes these her own by mixing in grungy pieces made from denim or leather. While she usually goes down the edgy style route, when Rihanna wants to look ladylike she's an absolute pro, which is why she is our best dressed of the weekend.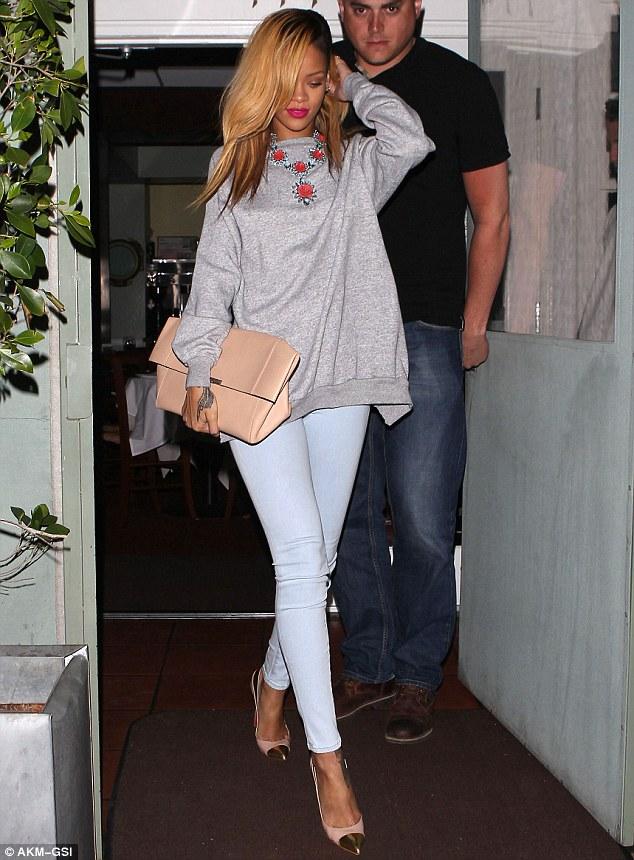 I was completely blown away by Rihanna's sweeping red gown at the 2013 Grammys and I wasn't sure she could top how beautiful and elegant she looked in it.  Then I saw this.
While it might seem odd to pit two completely different styles against one another, I really think the understated glam of this outfit makes an even bigger statement. At the Grammys, her custom made Azzedine Alaia dress did all the talking but this look is the classic example of how accessories can make an outfit.
Wearing a simple oversized grey jumper with light blue skinny jeans, this has the basis to be styled in virtually any way. Rihanna could easily style it down with simple black Converse, light brown ankle boots or ballet pumps but her nude toe cap courts by Christian Louboutin really amp up the chic factor.
Her nude fold over clutch bag ties her colour scheme together and while matching colours can feel a little outdated, the neutral tone works perfectly and the toe cap detail stops it from being too 'matchy matchy'.
Her statement necklace was exactly what this outfit needed to pop and provided the perfect detail in an otherwise very simple look. Her bright pink lips add another splash of colour, although I wouldn't say it's needed because of the coral colour of the necklace.
What's your favourite part of this outfit?
Hannah Reynolds
Guest Blogger for Cheltenham Fashion Week and all time fashion fan. Find her personal style blog at Eve Wanted a Wardrobe.
Photocredit: Images from DailyMail.co.uk