Alright, alright so the Barry M Gelly Nail Paints aren't new but they have just released a selection of gorgeous summer shades which we are very excited to try.
Barry M launched their Gelly Nail Paints last year and beauty bloggers and nail fanatics raced to the tills to see what all the hype was about. The idea behind them is that they offer a high shine finish much like a gel manicure. Don't let Barry M's bargain prices put you off, their original nail paints range is vast and great quality, if you haven't tried them you really should!
The Gelly Nail Paints retail at just £3.99, which is a pound more expensive than their regular nail paints and they are worth every penny. I have just one shade but I really like the glossiness of it and it lasts very well. Allie from Brit Nails is more of an expert, having the entire collection, and has swatched the newest shades for your eyes to see.
The summer collection features five new colours: Key Lime, Guava, Passion Fruit, Blue Grape and Mango. Allie claims all but Passion Fruit (pink) needed just two coats with Passion Fruit needing a third. I think you'll agree from her images, the high shine and quality from each colour is impressive.
If you like bright nail colours for summer, you cannot go wrong with these. My personal favourite, and the one I'll be heading out to buy, is Guava.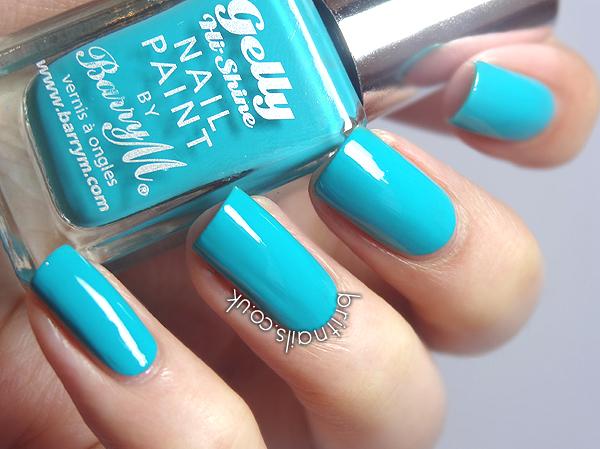 I'm a sucker for turquoise nail colours with tanned skin in the summer but Passion Fruit and Blue Grape are tempting me as well! If these bright colours are not so much your 'thing', there are 18 different colours in the Gelly Paint range, so there's something for everyone.
The nail colours are available now at Superdrug and will be available in Boots from June 12th.
Hannah Reynolds
Guest Blogger for Cheltenham Fashion Week and all time fashion fan. Find her personal style blog at Eve Wanted a Wardrobe.
Photocredit: Britnails.co.uk, superdrug.com