Powder pink is the colour of the season, so why not combine two of AW13's hottest trends with an over-sized pastel coat.
From sherbet shades to darker tones, pink is most definitely the season staple of AW13, and with its new lease of life it can look absolutely fabulous on just about anyone. Plus with so many different brands, styles and colours to choose from, the AW13 statement pink coat is absolutely perfect for any occasion. If pink just isn't your colour or you're struggling to work out the most flattering shade, fear not, we've got it covered. If you're dark haired or olive skinned, pale, dusky pinks will compliment your complexion perfectly, or if you're blonde haired and lighter skinned darker tones will look gorgeous with your paler complexion.
Wear it, work it:
For that 'pretty-in-pink' winter look, team a dusky coat with floral prints and patterns.
For a fashion mash-up, pair black skinny jeans or leather-look trousers with a dark sweater and biker boots, top with the statement pink coat to create that girl-on-the-street kind-of vibe.
For an icy winter look, team a pastel coloured coat with light neutral colours and subtle greys.
To create a smart and sophisticated look, don a darker toned coat and wear with black and white.
For a slightly edgier look, pair your statement coat with a little leopard print; maybe some heels, a scarf or even that must-have leopard print dress. That's right, animal print is back with more bite than ever before.
AW13 coats we just love:
Primark pale pink oversized coat, £32
Why we love it: it's a lovely shade and is very reasonably priced.
Wear with: dark skinnies and ankle boots for a casual look, or dress it up with a chic shift dress as evening wear.
Zara blazer, £59.99
Why we love it: simply because it's office wear and it's PINK!
Wear with: white cami and matching trousers, also available from Zara for just £29.99.
French Connection salsa faux fur collar coat, £195
Why we love it: It's bright, bold and full of colour, and has a cosy fur collar – perfect for the winter weather.
Wear with: a little black sparkly dress; ideal for any upcoming Christmas events.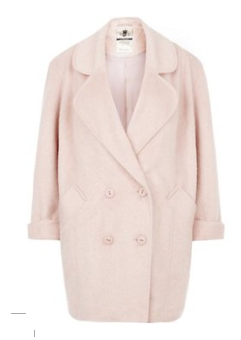 Newlook pink mohair boyfriend coat, £64.99
Why we love it: because it is just such a pretty shade and has a lovely oversized design.
Wear with: leather-look leggings, a shirt-chunky knit jumper combo and heels for a chic evening look.
Ted Baker caden zip swing jacket, £159
Why we love it: because the trench coat style makes it great for rain-shielding, plus the adjustable waist gives you two looks for the price of one. Bargain. Well sort of…
Wear with: ankle-grazer skinnies, pumps and a soft knitted jumper for a cool casual look.
Topshop premium wool lined biker coat, £125
Why we love it: because it has a borg wool lining, aka it's as cosy as walking around wrapped in a duvet.
Wear with: anything, overcoat-style jackets are bang-on-trend this season and can be worn with just about anything.
Asos Limited Edition pink mohair coat, £120
Why we love it: its overcoat style is quirky and stylish and yet, still incredibly chic.
Wear with: black and white to get the full effect of the bold colour, or wear with block colours to tone down this bright fuchsia shade.
 Beth Mahoney